Women's ice hockey shuts out SUNY Oswego
---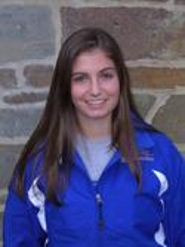 Laura DiCarlo '12 scored two goals and assisted on another to lead Hamilton College to a 5-0 win against visiting SUNY Oswego in a non-conference game at Russell Sage Rink on Jan. 19.

Becca Hazlett '13 -- the New England Small College Athletic Conference player of the week -- stopped all 17 shots she faced and posted her first collegiate shutout. Hazlett made 10 saves in the third period alone. The shutout is the first for Hamilton since a 4-0 win against SUNY Potsdam on Jan. 27, 2009. Becky Cairns '11 helped the Continental offense with one goal and one assist.

DiCarlo gave Hazlett all the help she needed with 4:07 left in the first period when DiCarlo scored to give Hamilton a 1-0 lead. Cairns and Bret Lineberry '11 were credited with assists. Cairns made the score 2-0 with her first goal this season at 8 minutes, 1 second of the second period. DiCarlo and Amy Allen '10 both tallied assists.

The Continentals (5-6-2 overall) poured it on in the third period with three more goals. Katie Zimmerman '13 notched her fourth goal 2:59 into the third off an assist from Abby Runyon '13 for a 3-0 cushion. DiCarlo's fifth goal this season was an unassisted, short-handed tally with 6:17 remaining. Emily Baxter '13 closed the scoring with a high shot from the right circle that settled into the back of the net for her second goal with 4:24 left.

Hamilton enjoyed a 32-17 shot advantage, but was 0-for-3 on the power play. The Lakers were 0-for-5 with the extra skater. This was the first meeting between the two programs.

Hamilton travels to top-ranked Amherst College for a NESCAC contest on Friday, Jan. 22.