Women's ice hockey skates by SUNY Potsdam
---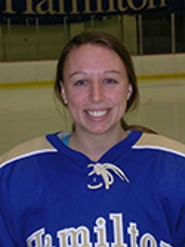 Katie Zimmerman '13 posted her second hat trick of the season and Hamilton College defeated SUNY Potsdam 4-2 in a non-conference game at Hamilton's Russell Sage Rink on Dec. 4.

Hamilton (5-2-0 overall) has won all four meetings with the Bears. Zimmerman leads Division III in goals per game with 1.29 per outing.

Nikki Haskins '14 chipped in a goal and an assist for the Continentals. Abby Runyon '13, Naomi Woolfenden '16, Hannah Jaiven '14 and Hannah Bartlett '16 all recorded one assist. Sarah Schuchardt '15 made eight saves in her first start of the season.

Sally Mooney '16 scored one goal and added one assist for the Bears. Izzy Fayerman '15 notched one goal, and Nadine Cunningham '13 and Brittany Lucky '14 had one assist apiece. Jen Conophy '13 stopped 40 shots.

Zimmerman, who has scored three goals or more in a game four times for Hamilton, broke into the scoring column just 25 seconds into the first period. She scored from just outside the left faceoff circle on a point-blank shot.

Mooney tied the score at the 9:20 mark of the first with her shot from inside the right faceoff circle. She received a pass from Lucky in her own zone, skated up the right side on a breakaway and fired the puck into the top left shelf of the net. The game was tied 1-1 after the first period.

The score remained tied until the Continentals finally regained the lead on a power-play goal with 2:45 left in the second period. Haskins redirected Runyon's shot from the top of the left faceoff circle past Conophy. Woolfenden also earned an assist on the play.

Hamilton extended its lead 5:29 into the third period. Zimmerman gathered the rebound from Haskins' initial shot and stuffed the puck into the goal for a 3-1 advantage.

Zimmerman completed the hat trick with 4:57 left in the third on her ninth goal of the year off another rebound. This time she cleaned up a shot from the point by Jaiven. Bartlett picked up her fourth assist on the goal.

SUNY Potsdam (2-8-0) added one more goal with 2:10 left on the clock. Fayerman sent in a low shot from just inside the blue line that slid under a screened Schuchardt. Mooney and Cunningham picked up the assists.

The Continentals held a 44-10 shot advantage and went 2-for-4 on the power play. The Bears came away empty on three chances.

Hamilton hits the road for another non-conference game at local rival Utica College on Saturday, Dec. 8. SUNY Potsdam hosts St. Michael's College on Friday, Dec. 7.