Women's ice hockey skates to second straight tie
---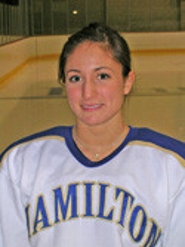 Meg Shine '10 stopped 33 of the 34 shots she faced as Hamilton College settled for a 1-1 tie against Bowdoin College in a New England Small College Athletic Conference game played at Sid Watson Arena on Jan. 18.
Hamilton (5-7-2 overall, 1-5-2 NESCAC) and Bowdoin were the first teams to play a varsity contest in the Polar Bears' brand new facility. The women played in front of a standing room-only crowd of approximately 1,025 people.
Stephanie Miguel '11 scored Hamilton's lone goal at 8:18 of the first period for a 1-0 lead. Miguel backhanded a loose puck top-shelf for her team-high 11th goal this season. She is tied for sixth in Division III with 1.57 points per game. Christie Sharlow '11 was credited with her ninth assist.
Bowdoin (3-7-1, 1-5-1) scored the tying goal while the teams were skating 4-on-4 with 4:20 to go in the second frame. Hamilton had a great shorthanded chance with seven minutes left in the third period. Kathryn Kroleski '09 broke in alone on the Bowdoin goalie and wristed a shot that the Polar Bear netminder kicked aside to keep the game deadlocked.
Shine made three saves in overtime, including two from in close, to preserve the tie. Shine has allowed just three goals in the last three games. She has a 2.64 goals against average and a .912 save percentage this season. Bowdoin outshot the visitors 34-18. Both teams were 0-for-6 on the power play.
Hamilton returns to NESCAC play on Saturday, Jan. 24, at Wesleyan University.