Women's ice hockey skates to 2-2 tie with Utica
---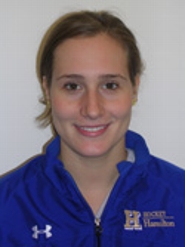 Julia Williams '14 scored the first goal of her Hamilton College career to rally the Continentals to a 2-2 tie against Utica College in a non-conference game at Hamilton's Russell Sage Rink on Feb. 7.

Gigi Fraser '14 scored the other Hamilton goal. Jill Tokarczyk '14, Abby Runyon '13, Hannah Jaiven '13 and Courtney Power '15 were credited with one assist apiece. Sarah Schuchardt '15 started in goal and made eight saves in 30 minutes, 18 seconds. Schuchardt has allowed one goal in 86-plus minutes this season. Tori Bogen '14 stopped seven shots over the final 34:42.

Megan Myers '14 posted one goal and one assist for the Pioneers. Myers leads the team with 13 goals and 18 assists. Meredith Tice '14 scored the other goal, and Meghan McMahon '13 added an assist. Jennifer Hamel '14 made 39 saves in net.

Hamilton (8-11-1 overall) opened the scoring at 11:36 of the first period. Power played the puck from behind the net to Tokarczyk in the left circle for a one-timer that was initially saved. But Fraser was there to lift the puck into the top of the net for her fourth goal. The Continentals led 1-0 at the first intermission.

Utica (8-10-3) evened the score on Myers' unassisted goal at 7:18 of the second. After gaining control of the puck above the right circle, Myers skated around a Hamilton defender and fired a wrist shot from the slot into the back of the net.

Tice's third goal of the season put the Pioneers ahead 2-1 at 12:21 of the period. Myers played the puck to McMahon behind the left side of the net, and McMahon sent a pass to Tice in front for a one-timer.

The Continetnals pulled even on Williams' goal with 50.4 seconds remaining in the period. Runyon played the puck to Jaiven at the left point, who fed a pass across to Williams in the right circle for a wrist shot that banged off the left post and into the net.

Each team had a good chance to take the lead late in the third period. Bogen made a glove save on a wrist shot by Myers following a Utica rush with 2:30 to play. With just 46 seconds on the clock, Laura DiCarlo '12 sent a pass on a rush to Stephanie Lang '14 in front for a one-timer. But Hamel made a sliding save to keep the score tied. Each team managed two shots in overtime.

Hamilton held a commanding 41-17 shot advantage. The Continentals were 0-for-4 on the power play, while the Pioneers were 0-for-2. Utica leads the all-time series 8-6-3.

Hamilton hosts Bowdoin College for a NESCAC game on Friday, Feb. 10, at 7 p.m.