Women's ice hockey swept by No. 5 Middlebury
---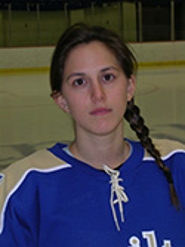 Middlebury College received goals from five different players and the nationally ranked No. 5 Panthers defeated Hamilton College 5-2 in a NESCAC game at Middlebury's Kenyon Arena on Jan. 26.

The Panthers (12-2-2 overall, 9-1-2 NESCAC) knocked off Hamilton by the same score at Middlebury on Friday night. The Continentals are 0-3-1 in their last four games.

Katie Sullivan posted one goal and one assist for the Panthers. Heather Marrison, Emily Fluke, Katie Mandigo and Molly Downey notched one goal each. Hannah Bielawski was credited with three assists and Jennifer Krakower recorded two helpers. Annabelle Jones made 25 saves.

Hannah Jaiven '14 scored her second goal in as many days for Hamilton (9-6-1, 4-5-1). Jill Tokarczyk '14 added the other goal, and Casey Brown '16 and Gigi Fraser '14 had one assist apiece. Becca Hazlett '13 turned away 28 shots.

Middlebury took a 1-0 lead 11:03 into the first period when Fluke scored her team-leading 11th goal this season. Bielawski won a faceoff to Madeline Joyce, who centered a pass to Fluke for the goal. Fluke has five goals in her last three games. The Panthers struck again just 43 seconds later when Bielawski found Downey, who scored from the high slot.

The Panthers made it 3-0 at 10:46 of the second period with a power-play goal. Krakower moved the puck to Bielawski on the left side before she centered to Mandigo for the quick redirect in the slot and her fifth goal this season. The lead grew to 4-0 with 2:48 left when Sullivan fed Marrison at the point, and her hard slapper deflected in off the stick of a defender.

Hamilton got on the board with 27 seconds left in the period. Tokarczyk netted her third goal this season on a high shot from the left-side boards. Fraser picked up her sixth assist on the play.

The Continentals made it 4-2 at 6:51 of the third period. After a Middlebury turnover, Jaiven skated in on the left side, and scored her fourth goal this season with a short-side shot. The Panthers put the game away with 3:28 remaining on Sullivan's sixth of the season. Krakower sent a pass to Sullivan, who scored to give herself a five-point weekend.

Middlebury finished with a 33-27 shot advantage and was 1-for-2 on the power play. The Continentals came away empty on their one power-play chance.

Hamilton travels to SUNY Potsdam for a non-conference game on Tuesday, Jan. 29, at 7 p.m.