Women's ice hockey upsets No. 5 Middlebury
---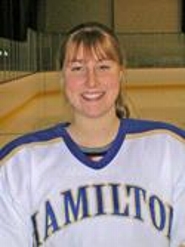 Becky Cairns '11 scored the game-winning goal with 45 seconds remaining in the third period to lift Hamilton College to a dramatic 3-2 win against nationally ranked No. 5 Middlebury College in a New England Small College Athletic Conference game at Hamilton's Russell Sage Rink on Feb. 6.
This marked the first time in 26 meetings with Middlebury that Hamilton has come out with a victory. Amy Allen '10 scored one goal for the Continentals (8-8-3 overall, 3-6-3 NESCAC). Laura DiCarlo '12 chipped in one goal, and Rachel Rapoza '10 added two assists. Becca Hazlett '13 played all 60 minutes in goal and turned aside 40 shots.
After a scoreless first period, Allen broke the silence 23 seconds into the second period, as she sent a shot through a crowd in front of the net for her 10th goal of the season. Katie Zimmerman '13 and Laura Stirrat '10 were credited with assists.
The Panthers (13-5-1, 10-3-1) tied the score 6:09 into the second with a shot into the top left corner of the goal. Middlebury took the lead with a Hamilton skater already in the penalty box and a delayed penalty call. The Panthers pulled their goalie for an extra skater, and were able to send a shot past Hazlett with 6:42 left in the period to go up 2-1.
With 2:56 left in the third period, DiCarlo tied the score 2-2 with a power-play goal on assists from Meredith Bitterman '12 and Rapoza. It was DiCarlo's seventh goal of the season. A little more than two minutes later, Cairns scored her third goal of the season to give the Continentals the win. Riley Smith '12 and Rapoza tallied the assists.
Hamilton was 1-for-5 with the extra skater, while Middlebury was 1-for-4. The Panthers held the advantage in shots on goal, 42-25.
The Continentals return to action on Wednesday, Feb. 10, when they travel to play a non-conference game at SUNY Oswego.