Women's ice hockey wins in overtime at Utica
---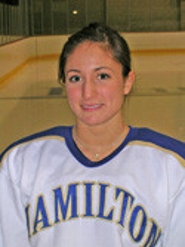 Stephanie Miguel '11 notched a power-play goal for Hamilton College with nine seconds left in overtime and lifted the visiting Continentals to a 4-3 non-conference win against Utica College at the Utica Memorial Auditorium on Feb. 10.
The goal was the second of the game for Miguel and her team-high 20th this season. She was also credited with an assist and leads Hamilton in points with 36. She has recorded at least one point in seven straight games. Amy Allen '10 assisted on Miguel's game-winner.
Hamilton (9-11-2 overall) skated out to a 2-0 lead in the first period. Allen opened the scoring with her 14th goal at 12:02. Laura DiCarlo '12 and Becky Cairns '11 were credited with the assists. Miguel knocked in an unassisted tally with 4:35 left in the period.
Utica (11-9-2) responded with three goals in the second period. Hamilton's Christie Sharlow '11 found the back of the net with her eighth goal at 8:05 of the period when she buried a rebound off a shot by Miguel that was stopped. Sharlow's goal made the score 3-1. Miguel registered her 50th career point on the play. The Pioneers tied the score with two goals late in the period.
Neither team managed a goal in a quiet third period. Continental goalie Meg Shine '10 made 35 stops, including 12 in the third and two in overtime.
Hamilton was whistled for an interference penalty at 1:20 of the extra session, but the Continentals killed Utica's power-play opportunity. The Pioneers were called for hooking with 45 seconds left in the period. The penalty led to the final flurry of shots that resulted in Miguel's goal.
The Continentals are off until Feb. 20, when they travel to Williams College for a New England Small College Athletic Conference game.