Women's ice hockey wins second straight at Wesleyan
---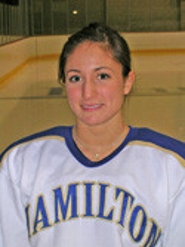 Stephanie Miguel '11 had a hand in all five Hamilton College goals in the visiting Continentals' 5-2 New England Small College Athletic Conference win against Wesleyan University at Spurrier-Snyder Rink on Jan. 25.
Miguel recorded three goals and two assists. The hat trick is the first of her Hamilton career. She leads the Continentals with 14 goals and 27 points. The last five-point game by a Hamilton player came on Jan. 20, 2006, when Zöe Baldwin '06 accomplished the feat against Trinity College.
Hamilton improved to 7-7-2 overall and 3-5-2 in the NESCAC. The Continentals are unbeaten in their last five games (3-0-2).
Miguel scored her first two goals on power plays to give Hamilton a 2-0 lead 4:19 into the second period. Her first goal -- with 5:00 left in the first period -- came on a wrist shot.
Wesleyan (2-14-1 overall, 1-8-1 NESCAC) struck at 13:27 to close the gap to 2-1. Miguel found Kathryn Kroleski '09 for another Continental goal just 13 seconds later. The Cardinals pulled to within 3-2 on a power-play goal with 1:03 left in the period.
Both Kroleski and Miguel scored another goal midway through the third to wrap up Hamilton's second road win in as many days. Miguel received a pass from Christie Sharlow '11 at the blue line and took it all the way, firing a shot past the Wesleyan goalie at 9:56 of the period for the 5-2 final.
Kroleski finished with two goals. She has eight goals and eight assists this season. Kate Marek '09 and Sharlow were credited with three assists apiece. Marek leads the team with 16 assists and Sharlow is tied for second with 13.
Meg Shine '10 made 21 saves in goal for the win. Shine has not allowed more than two goals in any of the past five games. She lowered her goals against average to 2.54 and raised her save percentage to .913.
The Continentals dominated special teams play. Hamilton was 3-for-4 on the power play and killed seven of Wesleyan's eight chances.
Hamilton returns to Sage Rink for its first home game of 2009 on Tuesday, Jan. 27, when the Continentals take on SUNY Potsdam in non-conference action.