Women's ice hockey wins second straight over SUNY Cortland
---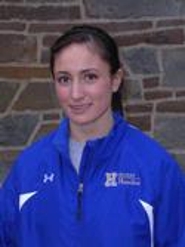 Stephanie Miguel '11 scored a goal and assisted on two others to help lead Hamilton College to a 4-3 win against visiting SUNY Cortland in a non-conference game at Russell Sage Rink on Jan. 9.
Miguel leads the team with 10 assists and 14 points. Amy Allen '10 and Katie Zimmerman '13 each scored one goal and recorded one assist for Hamilton (3-4-2 overall). Abby Runyon '13 added one goal, and Christie Sharlow '11 was credited with three assists. Meg Shine '10 recorded her first win in goal this season as she made 16 saves.
Hamilton got on the scoreboard first 11 minutes, 25 seconds into the first period when Runyon scored her second goal of the season. With one minute remaining in the opening period, Miguel put the Continentals up 2-0.

SUNY Cortland (3-9-0) cut the Continentals' lead to one just 40 seconds into the second period. Cortland capitalized on a power play and tied the score 2-2 at 3:21 of the second.
The Continentals called timeout after the second Cortland goal and regrouped. Hamilton responded with two power-play goals -- both while the Continentals skated with a 5-on-3 advantage -- later in the second. Zimmerman put Hamilton in the lead for good with her third goal at 11:45, and Allen followed with her fifth with 31 seconds remaining.
The Red Dragons pulled within 4-3 at 8:25 of the third period, but couldn't net the equalizer. Cortland took just four shots in the final 20 minutes, and was whistled for a two-minute penalty for too many players on the ice with 2:35 left.
The Continentals enjoyed a 34-19 advantage in shots on goal. Hamilton was 2-for-8 on the power play while the Red Dragons were 1-for-5. Hamilton has won all 10 meetings in the all-time series against Cortland.
Hamilton will travel to play another non-conference game against nationally ranked Rochester Institute of Technology on Tuesday, Jan. 12.