Women's indoor track & field competes at ECAC championships
---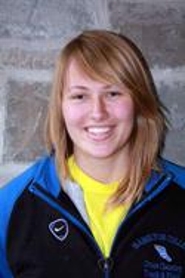 Hamilton College tied for 38th place out of 50-plus teams at the 2013 Eastern College Athletic Conference (ECAC) Division III Indoor Championships, which were held at New York City's New Balance Armory Track & Field Center on Friday and Saturday, March 1 and 2.

RESULTS

Agne Jakubauskaite '13 broke a program record she shared with Jen Orbaker '07 in the high jump with a height of 1.59 meters (5 feet, 2.5 inches). Jakubauskaite tied for 15th place out of 27 participants. She had tied the old record of 1.58 meters last weekend at the New York State Collegiate Track Conference (NYSCTC) indoor championships on Feb. 23.

Krystina Choinski '15 established a new season best and finished third in the 1,000-meter run with a time of 3:03.47. The top eight finishers in all events earn a spot on the ECAC all-conference team.

Choinski teamed up with Jessye McGarry '16, Emily Banzer '15 and Catherine Oglevee '15 and finished 14th out of 31 schools in the 4x800-meter relay with a season-best time of 9:44.13. Rachel Cackett '13 ended up 17th in the 3,000-meter run in 10:51.75.

Nationally ranked No. 23 Ithaca College captured the team title with 76 points and New York University took second place with 50 points. Hamilton finished with six points. Additional ranked teams that participated in the event included No. 6 Wheaton College (4th place), No. 11 Ramapo College (11th), No. 14 Massachusetts Institute of Technology (T-22nd), No. 16 SUNY Cortland (T-26th), No. 17 Johns Hopkins University (T-43rd), No. 15 Middlebury College (T-45th) and No. 18 Buffalo State College (T-49th).