Women's indoor track & field hosts Hamilton Invitational
---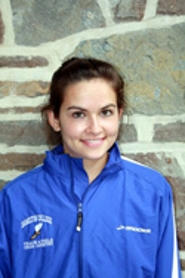 Hamilton College track and field athletes finished first in four events in the non-team scoring Hamilton Invitational at Margaret Bundy Scott Field House on Feb. 9.

RESULTS

Rachel Cackett '13 set a personal-best time of 18:54.69 and took first place in the 5,000-meter run. Adrian Walsh '16 claimed first place in the mile run with a time of 5:42.77, and Hallie Loft '15 finished right behind her in 5:45.65.

Kerry Reilly '14 won the 1,000-meter run in a time of 3:28.84. Sara Lewis '16 rounded out the winners with a height of 2.75 meters (9 feet, 0.25 inches) in her first collegiate pole vault competition.

Krystina Choinski '15 earned second place in the 800-meter run in 2:24.69. Agne Jakubauskaite '13 finished second in the high jump with a height of 1.53 meters (5 feet, 0.25 inches).

Hamilton travels to Rochester Institute of Technology for the Tiger Invitational on Friday, Feb. 15.