Women's indoor track & field places 10th at state meet
---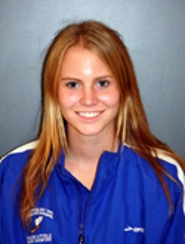 Hamilton College's Krystina Choinski '15 placed third in the 1,000-meter run and was part of a relay that also finished third at the 2013 New York State Collegiate Track Conference (NYSCTC) Indoor Championships at Ithaca College's Glazer Arena on Feb. 23.

Results

Hamilton finished in 10th place with 21 team points. Nationally ranked No. 20 Ithaca won the team title with 243 points. The top three finishers in all individual events earn NYSCTC all-conference honors.

A number of Hamilton student-athletes will participate in the Eastern Collegiate Athletic Conference (ECAC) Division III Indoor Championships, which will be held at New York City's New Balance Armory Track & Field Center on Friday and Saturday, March 1 and 2.

Choinski, who previously qualified for the ECAC championships in the 1,000 meters, posted a season-best time of 3:06.46 in the event. She later teamed up with Jessye McGarry '16, Emily Banzer '15 and Catherine Oglevee '15 for a 4x800-meter relay that finished third with an ECAC qualifying time of 9:54.85.

Rachel Cackett '15 finished sixth and qualified for a spot in the ECAC championships in the 3,000-meter run with a time of 10:43.19. Agne Jakubauskaite '13 took seventh place in the high jump with a height of 1.58 meters (5 feet, 2.25 inches). Jakubauskaite tied the program record in the high jump set six years ago by Jen Orbaker '07, and qualified for the ECAC meet.