Women's indoor track & field places 5th at St. Lawrence Invite
---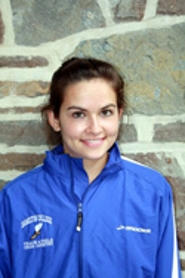 Hamilton College's Rachel Cackett '13 captured first place in the 5,000-meter run and the Continentals placed fifth out of eight teams at the St. Lawrence University Indoor Invitational held at Newell Field House on Jan. 19.

Results

Cackett completed the race in a time of 19:25.60. Lainie Smith '16 was ninth out of 25 athletes in the mile run with a time of 5:42.14, and Jessye McGarry '16 placed fourth in the 500-meter dash in 1:25.69.

A trio of Hamilton runners finished in the top five in the 1,000-meter run. Krystina Choinski '15 was second (3:16.25), Emily Banzer '15 was third (3:22.18) and Kerry Reilly '14 came in fifth place (3:29.18).

Catherine Oglevee '15 finished ninth in the 800-meter run with a time of 2:35.32. Agne Jakubauskaite '13 tied for fifth place in the high jump with a height of 1.48 meters.

St. Lawrence won the team title with 176 points and the University of Ottawa was second with 137. Hamilton finished with 60 points.

The Continentals host the Hamilton Invitational on Saturday, Jan. 26.