No. 2 Women's lacrosse stunned in home loss
---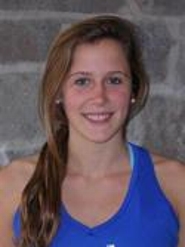 Lindsay Abbott '12 recorded seven points and Ally Levy '13 made 10 saves to lead nationally ranked No. 8 SUNY Cortland to a 12-9 upset win against No. 2 Hamilton College in a non-league women's lacrosse game at Hamilton's Steuben Field on March 22.

Cortland (5-1 overall) ended the Continentals' home win streak at 38 games. Hamilton's last loss at home came against Union College back on April 22, 2006, when the Continentals played on Campus Road Athletic Field.

Abbott became the 10th player in program history to reach the 200-point milestone for a career. She now has 204 after she scored two goals and assisted on five others. She leads the Red Dragons with 17 goals and 14 assists this year. Ashley Cook '14 scored four goals and Erin Kollar '12 had three. Maria Di Fato '13 chipped in two goals and one assist.

Levy was making her first start this year in her fourth appearance in goal. In addition to the saves, she had three ground balls and one caused turnover. Meg Rowe '13 picked up four ground balls, and Abbott won eight draw controls.

Rachel Friedman '13 paced the Hamilton offense with three goals and an assist. Libby Schultz '12 added two goals and one helper. Sarah Bray '11 registered two goals, four draw controls and three caused turnovers. On defense, Lauren Sokol '12 had five ground balls, three draw controls and three caused turnovers.

Cortland actually won this game in the first half with a 6-0 run that lasted a little more than 10 minutes. With the score tied at 1-1, Cook put the Red Dragons ahead to stay with her first goal of the afternoon on an assist from Abbott with 23:40 left in the half. Cook made it two in a row with an unassisted goal with 20:16 remaining.

Abbott fed Kollar for her first goal of the day with 19:31 left, and then it was Taylor Reh '14 from Di Fato with 17:29 remaining. Di Fato made the score 6-1 with her 15th goal on a pass from Jordan Miller '12 with 15:28 left. Cook tallied her third goal during the spurt on an assist from Reh with 13:35 remaining.

Schultz finally stopped the bleeding on a goal that was assisted by Hannah Hoar '13 with 12:29 left, but the Continentals trailed 7-2, and the damage had been done. Hamilton didn't get closer than three goals the rest of the game. Cortland led 9-5 at the break. The Continentals were just 2 of 6 on clear attempts in the first half, while the Red Dragons were successful 8 of 10 times.

Hamilton (2-1) held a 28-20 shot advantage. Cortland leads the all-time series, 18-14, but the Continentals had won the last four meetings before today.

Hamilton hosts Nazareth College for another non-league game on Friday, March 25. The Red Dragons travel to rival Ithaca College on Saturday, March 26.