No. 2 women's lacrosse back in win column
---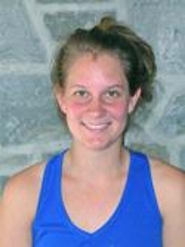 Rachel Friedman '13 scored a career-high five goals and Sarah Bray '11 added four goals and an assist to lead nationally ranked No. 2 Hamilton College to a 16-6 win against Nazareth College in a non-league women's lacrosse game at Hamilton's chilly Steuben Field on March 25.

Hannah Hoar '13 chipped in two goals and one assist for the winners. Libby Schultz '12 posted one goal and one assist. Katie D'Antonio '14, Martha Plack '14, Ashley Allen '12 and Kate Otley '12 all added one goal. Plack's goal was her first for the Continentals. Anne Graveley '11 was credited with an assist.

Bray also led the defense with three caused turnovers. In her last game against SUNY Cortland on March 22, she became the 14th player in team history to reach the 100 career-goal milestone. Meg Pengue '12 picked up five ground balls and caused two turnovers, and Lauren Sokol '12 won four draw controls and caused two turnovers. Nicole Nietlisbach '13 made four saves in her first start and win in goal at Hamilton.

Kristine Olijnyk '11 and Alyssa Johnston '13 paced the Nazareth offense with two goals apiece. Johnston leads the team with 18. Erinn Wood '13, who has a team-high 23 points, did not play. Michelle Cook '11 and Chelsey Amidon '11 added one goal apiece. Amidon scooped up four ground balls and caused two turnovers, and Cook won six draw controls. Tara Prosak '14 made eight of her 11 saves in the second half.

The Continentals (3-1 overall) jumped out to a 7-0 lead as the wind chill hovered in the high teens at the start of the game. D'Antonio got things rolling 2 minutes, 34 seconds into the first half with her third goal this year on a feed from Bray. Friedman scored the first of her three goals during the seven-goal run with 24:16 left in the half. She added another 1:46 later, and Otley made the score 4-0 with 18:42 remaining when Graveley found her sprinting down the middle of the offensive zone.

Bray scored an unassisted goal 66 seconds later, and Hoar found the back of the goal on a free-position shot with 16:06 left. Hamilton finished 5-for-11 on free-position shots. Friedman completed the run with 12:42 remaining in the half. She leads the team with 15 goals.

The Golden Flyers (5-2) finally got on the scoreboard with 11:54 left when Amidon notched her 13th goal of the year. The Continentals countered with the next two goals for a 9-1 advantage, and Nazareth never threatened the Hamilton lead. The Continentals enjoyed a 10-2 lead at the break.

Hamilton held a commanding 38-10 shot advantage, and had 28 ground balls to 17 for the Golden Flyers. Nazareth was successful on just 10 of 17 clear attempts, and committed 21 turnovers. The Golden Flyers had their win streak snapped at four games. The Continentals have defeated Nazareth five straight times, and lead the all-time series, 7-4.

Hamilton is scheduled to host No. 20 St. John Fisher College for another non-league game on Saturday, March 26. The Golden Flyers host Rochester Institute of Technology in Empire 8 action on Tuesday, March 29.