Women's lacrosse defeats Middlebury in top 10 clash
---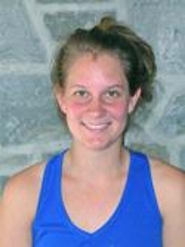 Rachel Friedman '13 scored a game-high five goals and Sarah Bray '11 added four goals and three assists to lead nationally ranked No. 3 Hamilton College to a 16-6 win against No. 9 Middlebury College in a non-league women's lacrosse game at Hamilton's Steuben Field on April 5.

Hamilton (5-1 overall) has won three straight and 41 of its last 42 at home. Friedman leads the Continentals with 26 goals, and Bray leads the team with 17 assists and 31 points. Bray moved past Liz Longley '07 on two Hamilton career lists on Tuesday. Bray is now second with 89 assists (Longley had 87 from 2004 to 2007), and she moved into fourth place in points with 199 (Longley had 197).

Middlebury (6-2) has lost two in a row after opening the season with six straight wins. The 16 goals allowed by the Panthers are a season high.

Katie D'Antonio '14 scored three goals, and Anne Graveley '11 had two goals and two assists for the Continentals. Kate Otley '12 and Ashley Allen '12 tallied one goal apiece, and Libby Schultz '12 was credited with one assist. Nicole Nietlisbach '13 made a career-high nine saves. Allen won four draw controls and Paige Engeldrum '13 scooped up five ground balls. Meg Pengue '12 recorded five ground balls and four of Hamilton's 17 caused turnovers.

Sally Ryan '11 paced Middlebury with three goals and one assist. Ryan leads the team with 34 goals and 39 points. She also had four ground balls, two draw controls and two caused turnovers. Elizabeth Garry '12 had two goals and one assist, and Dee Miller '14 scored a goal. Lily Nguyen '12 turned away 12 shots. Michaela Colbert '13 won two draws and Hannah Deoul '14 caused two turnovers.

The Continentals scored the first five goals and never trailed. Otley made the score 1-0 with her eighth goal with 20:45 left in the first half. Graveley scored on a pass from Bray 67 seconds later, and Bray notched an unassisted goal with 15:54 remaining. Friedman found the back of the net 40 seconds later after receiving a pass from Bray, and Friedman made the score 5-0 with 14:12 left.

Ryan finally put the Panthers on the scoreboard with a free-position goal at the 13:32 mark. Middlebury didn't get closer than four goals the rest of the way. Garry's 11th goal on a Ryan assist with 57 seconds remaining in the half pulled the Panthers within 7-3.

The score remained 7-3 until Friedman tallied her fifth and final goal of the day with 20:50 left in the second half. Her goal was the first of another five-goal spurt by Hamilton. Graveley's eighth goal on a free-position shot with 15:21 remaining ended the run and gave the Continentals a commanding 12-3 advantage.

Hamilton enjoyed a 36-18 shot advantage, and picked up 27 ground balls to 19 for Middlebury. The Continentals doubled up the Panthers in draw controls, 16-8. Middlebury had 24 turnovers, and was successful on just 14 of 23 clear attempts.

Hamilton has won all three meetings with the Panthers. The previous two contests between the two programs were in the 2008 and 2009 NCAA championship regional finals.

The Continentals host Vassar College on Friday, April 8, for their first Liberty League game of 2011. Middlebury returns home to face Bowdoin College in NESCAC action on Saturday, April 9.