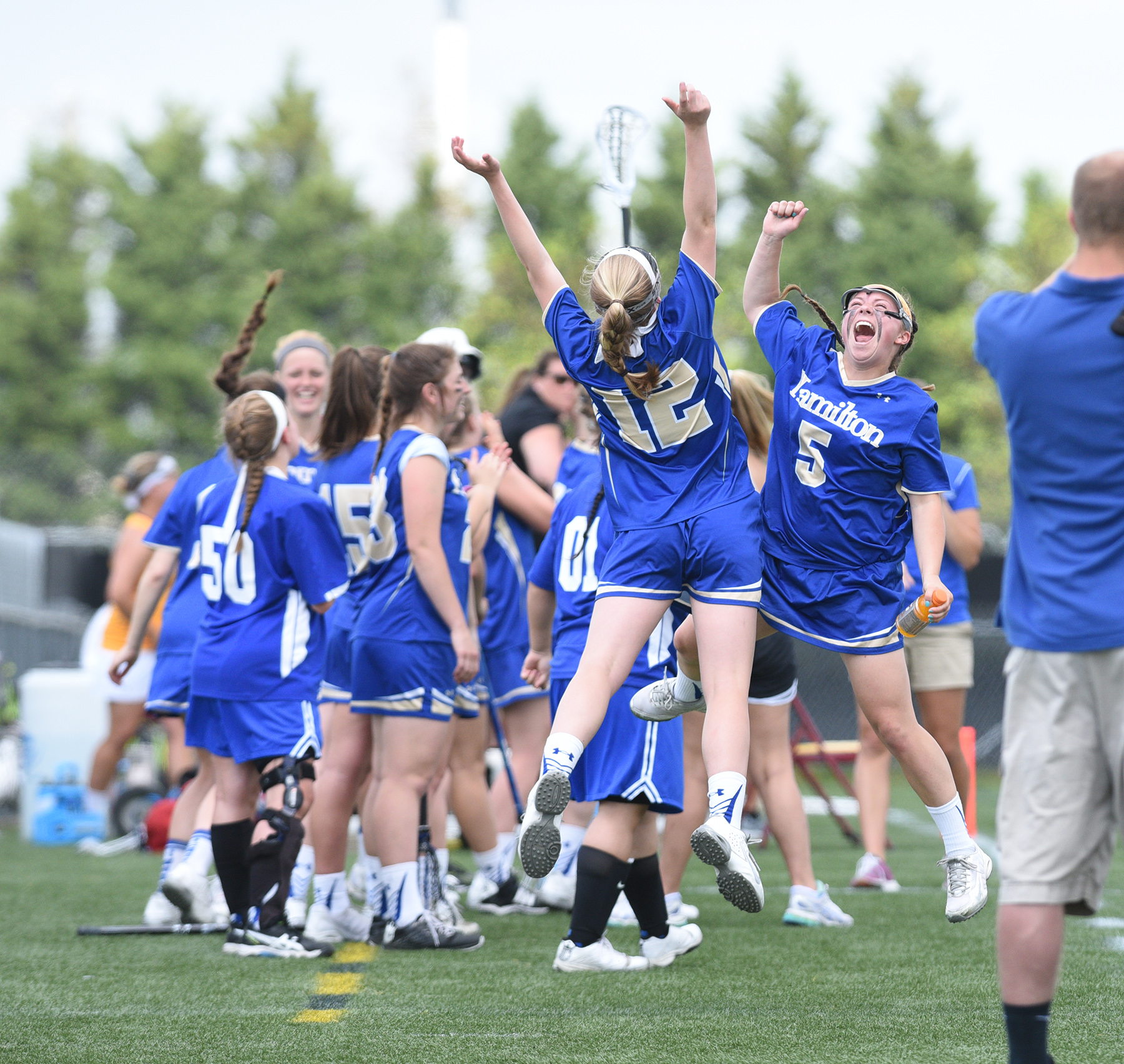 The nationally ranked No. 13 Hamilton College women's lacrosse team upset No. 8 Salisbury University in the second round of the NCAA Division III playoffs, winning 9-8 in double overtime on Sunday.

Updated bracket | Box score

The Continentals (12-5 overall) will play NESCAC rival Middlebury College on Saturday, May 16, at 2:30 p.m. in a regional semifinal at Gettysburg College.

Hamilton entered the day ranked 26th in scoring defense with 7.69 goals allowed per game. Salisbury was the two-time defending national champions.

The Continentals, making their eighth NCAA postseason appearance, advanced to the round of 16 for the first time since 2011. The winner of Saturday's Hamilton-Middlebury game will play either York (Pa.) or Gettysburg in Sunday's regional final with a trip to the "final four" at stake (the Spartans and Bullets will play Saturday at 11:30 a.m.).

Darby Philbrick '18 scored her 15th goal of the season 1:56 into the sudden-death overtime session. The teams had played a scoreless six-minute overtime period after Hamilton tied the game with 89 seconds left in regulation on a goal by Morgan Fletcher '17.

Hamilton goaltender Hannah Rubin '17 made four of her 10 saves after Fletcher's tying goal. She stopped a free-position shot by Salisbury's Megan Wallenhorst '16 with 48 seconds to go and turned aside three Sea Gull shots in overtime.

Her final save, 1:13 into the sudden-death session, came on another free-position attempt by Wallenhorst. Annie Pooley '16 scooped up the ground ball and the Continentals carried the ball into Salisbury territory before calling a timeout 25 seconds later.

Philbrick came in from the left side and sent a shot into the lower-right corner for her first game-winning goal of the year.

Hamilton was one of only two visiting teams to defeat a host team in the 22 games of the tournament's first two rounds. The Sea Gulls (14-4) had won 51 of their previous 52 home games, including 14 postseason games dating back to 2011.

Ashleigh Stephan '15 matched Philbrick with a team-leading three goals. Her second goal of the game gave the Continentals their biggest lead at 5-2 with 7:37 left in the opening half.

Salisbury scored three straight goals to force a 5-5 tie midway through the second half. After Philbrick and Stephan scored to put the visitors back up 7-5, the Sea Gulls needed just 59 seconds to tie the game again.

Bethany Baer '15 started Salisbury's comeback with an unassisted goal late in the first half. The Sea Gulls scored the first two goals of the second half with Katelin Talbert '16 converting a free-position shot 12 minutes in and Hannah Young '17 tying the score 1:39 later off an assist from Kara O'Rourke '15.

Young, who led Salisbury with three goals, assisted on a goal by Wallenhorst to pull the hosts to within a goal with just under 10 minutes to go in regulation. O'Rourke capped Salisbury's next possession with a free-position goal to tie the score at seven.

The Sea Gulls took their only lead of the day with just under four minutes left. Baer forced a Continental turnover and assisted on Young's third goal of the game, putting Salisbury up 8-7 with 3:58 left.

Salisbury won the ensuing draw and gained another advantage with 3:10 remaining when a yellow card left the Continentals down a player. Hamilton's Hannah Haskell '15 forced a Sea Gull turnover and Maddie Fitzpatrick '18 picked up the ground ball to give the Continentals a chance at the tying goal. Fletcher took advantage, knotting the score at 8-8 with her 28th goal of the year.

Both teams had a chance to take the lead in the final minute. Salisbury won the draw but Rubin stopped Wallenhorst's free-positon try with 48 seconds left. Hamilton took possession and 29 seconds later Fletcher's shot was saved by Gianna Falcone '18. Falcone made 10 saves in suffering her first career loss.

Caroline McCarthy '16 opened the scoring for Hamilton 5:20 into play. After Kate Haker '15 converted a pass from O'Rourke to tie the game, Stephan and Philbrick put Hamilton up 3-1.

Young scored the first of her three goals at the 12:57 mark but Hamilton retook a two-goal lead just 12 seconds later on a goal by Margaret Gabriel '16.

Stephan led all players with three ground balls. Gabriel won five draw controls and Haskell caused a pair of turnovers.

Baer paced Salisbury with five draw controls and two caused turnovers. The Sea Gulls had won 14 straight postseason games, finishing the 2013 and 2014 seasons by beating Trinity College in the national championship game.

Middlebury beat Massachusetts Institute of Technology 19-9 in second-round action. The Panthers won the regular-season meeting with Hamilton by a 12-10 score last month in Clinton.