Women's lacrosse advances to league championship game
---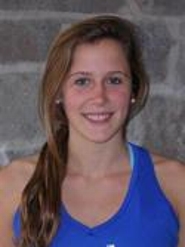 Rachel Friedman '13 scored four goals to lead nationally ranked No. 1 Hamilton College to a 12-3 win over Rensselaer in a 2010 Liberty League championship semifinal played at Hamilton's Steuben Field on May 7.

Hamilton -- the tournament's No. 1 seed -- advances to Saturday's championship game for the fifth straight year. The Continentals (17-0 overall) will play Union College at 2:30 p.m. at Steuben Field. Union defeated St. Lawrence University 11-9 in the second semifinal. Hamilton and Union will meet in the championship game for the fifth straight year. The Continentals won the title in 2007, 2008 and 2009.

Hamilton extended its home win streak to 35 games. Rensselaer (8-6) was the tournament's No. 4 seed, and was making its first-ever appearance in the league tournament.

Friedman also picked up four ground balls and caused two turnovers. Liz Rave '10 chipped in three goals and three draw controls for Hamilton. Rave moved into fifth place on Hamilton's career goals list with 129. Hilary Saverin '10 scored twice, and Sarah Bray '11 posted one goal, two assists and five ground balls.
Audrey Nebergall '10 and Libby Schultz '12 each scored one goal and were credited with one assist. Kate Fowler '10 needed to make just two saves in goal.

Rensselaer jumped out to a 1-0 lead with an unassisted goal just 1 minute, 52 seconds into the first half. Hamilton scored the next four goals and never trailed again.

Friedman started the scoring for the Continentals, finding the back of the net on an assist from Nebergall at the 22:22 mark. Saverin then tallied back-to-back goals. The first came off an assist from Bray and the second on a pass from Hannah Hoar '13. Rave gave Hamilton a 4-1 lead with an unassisted goal at 18:51.

The Engineers scored on a free-position shot to cut the Continentals' lead to two with 11:50 remaining in the first half, but Rensselaer didn't score again until midway through the second half. Hamilton took control with a 7-0 run that spanned the rest of the first half and nearly 16 minutes of the second. The Continentals scored two more goals in the first half to go into the break with a 6-2 lead.

Hamilton notched the first five goals of the second half. Friedman opened the second half with a goal just 1:43 in. Schultz was credited with the assist. Bray scored her 23rd goal of the season at the 25:49 mark to give Hamilton an 8-2 lead. Rave added back-to-back goals to stretch the lead to eight. Friedman scored her 32nd goal on a free-position shot at 19:31 to put Hamilton up 11-2.

The Engineers capitalized on a free-position opportunity to score their third goal with 14:06 left. Schultz put the finishing touches on the Continentals' victory with her 24th goal with 2:11 remaining.

Hamilton enjoyed a huge shot advantage with 30, while Rensselaer recorded just six. The Continentals held a 13-4 advantage in draw controls and a 25-21 edge in ground balls.