Women's lacrosse assistant coach signs with elite team
---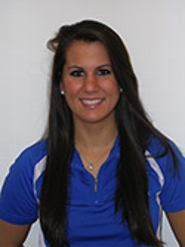 Hamilton College women's lacrosse assistant coach Brittany Brigandi has signed with Team STX, the first-ever elite post-collegiate women's lacrosse team.

Brigandi is one of 10 players signed by STX, a global sporting goods leader. She is one of four midfielders and the only player selected from an NCAA Division II program. The other nine all played for Division I teams. STX will announce the rest of its inaugural team in June.

Brigandi is in her first year as an assistant coach at Hamilton. She began her collegiate playing career in Division I at the University of Massachusetts, and transferred to Le Moyne College for her final three seasons.

Brigandi was the 2012 Intercollegiate Women's Lacrosse Coaches Association Midfielder of the Year and a two-time first team all-American. She was selected the Northeast-10 Conference player of the year in 2012 and was one of only two Division II players on the 2012 Tewaaraton Award Watch List. Brigandi was a two-time all-conference and all-region first team honoree.

Brigandi helped lead Le Moyne to a 34-6 record and a pair of NCAA Division II championship semifinal appearances. She set program records with 182 career goals, 87 goals in a season (2011) and 106 points in a season (2011). Brigandi led all of Division II in goals in 2011, and her 87 tallies are the sixth-highest total for a single season in Division II history.