Women's lacrosse blanks Clarkson for 10th straight win
---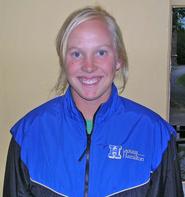 Nationally ranked No. 3 Hamilton College shut out an opponent for the first time since 1996 in the Continentals' 17-0 win against Clarkson University in a Liberty League game at Hamilton's Steuben Field on April 10.
The Continentals (10-0 overall, 4-0 Liberty) blanked Union College 11-0 on April 13, 1996. Hamilton has won 30 straight games at home and improved to 25-0 all-time against Clarkson. The Golden Knights (5-4, 0-3) lost their third straight game.
Audrey Nebergall '10 led a balanced scoring attack with three goals. Eleven different players scored at least one goal for the Continentals. Rachel Friedman '13 chipped in two goals, one assist, a game-high four draw controls and two caused turnovers. Kate Otley '12, Libby Schultz '12 and Kriti Dave '11 added two goals apiece.
Kate Fowler '10, Sam Elie '12 and Nicole Nietlisbach '13 combined to make three saves in the shutout. Julia Beaty '13 picked up four ground balls and caused two turnovers.
Hamilton scored four goals before the game was five minutes old, and the rout was on. Nebergall tallied three of the team's first six goals. Her third and final one of the afternoon made the score 6-0 with 14:13 left in the half. Nebergall and Liz Rave '10 are tied for the team lead with 21 goals apiece. The Continentals led 12-0 at the break.
Hamilton added five more goals in the second half. Dave scored the first two in the opening five minutes. Both came off assists from Sarah Bray '11. Becca Green '11 and Laura Stern '11 each scored their first goals of the season.
Clarkson had the ball in its offensive zone in the final minute, but Beaty forced a turnover with 10 seconds left and ran out the clock. Hamilton enjoyed a 36-5 shot advantage and picked up 28 ground balls to 11 for the Golden Knights. Clarkson was successful on just 4 of 19 clear attempts, and made 26 turnovers.
The Continentals host Ithaca College on Wednesday, April 14, in non-league action.