No. 14 women's lacrosse blasts Buffalo State
---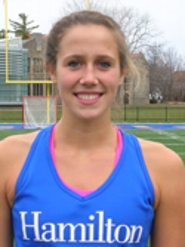 Hamilton College's Rachel Friedman '13 and Katie D'Antonio '14 tallied five and four goals, respectively, and the nationally ranked No. 14 Continentals rolled past Buffalo State College 14-3 in a non-conference game at the National Training Center in Clermont, Fla., on March 25.

The Continentals (4-2 overall) improved to 4-0 in games started by goaltender Dewi Caswell '14. Hamilton earned its first win against Buffalo State after the Bengals took the first meeting last year, 13-12. For the Continentals, it was the largest margin of victory and the fewest goals allowed since a 14-3 win over the University of Rochester on April 23, 2011.

Friedman leads the team with 16 goals this season. Kathryn Maiorano '14 posted one goal and one assist, and Margaret Gabriel '16 added three assists. Emily Brodsky '14, Lauren Brady '14, Kate Anderson '16 and Madison Beres '15 scored one goal each, and Mariah Monks '13 passed out one assist.

Paige Engeldrum '13 scooped up a game-high seven ground balls and Friedman chipped in six. Caswell made six saves between the pipes. She ranks third in the NESCAC with a save percentage of .587 and lowered her goals against average to 6.50.

Sarah Kirchberger, Kimberlee Carr and Niki Paulhardt all recorded one goal, and Becca Martinez had one assist for Buffalo State (4-3). Meghan Farrell grabbed four ground balls and tied for the team lead along with Meghan Allen and Paulhardt with three draw controls. Adelena DiDuro stopped seven shots in 35-plus minutes. Colleen George made two saves the rest of the way.

Hamilton raced out to a 4-0 lead and didn't allow a goal until there were 72 seconds left in the first half. Friedman started the scoring with a man-down goal 4 minutes, 47 seconds into the contest. D'Antonio scored the next three goals. She scored on a feed from Gabriel 35 seconds after Friedman's goal, tallied an unassisted goal with 16 minutes left and notched a free-position goal with 7:38 remaining in the half.

Paulhardt scored the Bengals' first goal after she received a pass from Martinez. Friedman answered for Hamilton 50 seconds later, and Kirchberger slipped a shot past Caswell with 0.6 seconds left in the half. Hamilton took a 5-2 lead into intermission.

The Continentals scored six times in the first 12 minutes of the second half. Friedman scored the first two goals -- an unassisted tally 1:48 in and a free-position goal with 24:54 left. Hamilton rattled off three goals in less than a minute for an 11-2 lead. Goals by D'Antonio and Brodsky just 11 seconds apart put Hamilton up by eight with 19:10 to play, and Maiorano scored on a pass from Monks with 18:38 left.

Anderson scored her first collegiate goal on Gabriel's third assist with 8:01 left, and Beres scored less than three minutes later from Maiorano. Carr completed the scoring on a free-position goal with 97 seconds left.

Buffalo State held a 12-6 advantage in draw controls but committed 26 turnovers. The Continentals were credited with just 14 turnovers and dominated ground balls, 28-14. Hamilton enjoyed a 35-15 shot advantage.