Women's lacrosse coach receives honor
---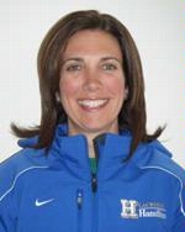 Hamilton College head women's lacrosse coach Patty Kloidt has been appointed the Jerome Gottlieb '64 Coaching Fellow for Exemplary Mentoring.

Kloidt is in her 11th year at Hamilton and guided the program to the College's first NCAA Division III team title in 2008. The Continentals have reached the postseason every year, including the NCAA championship from 2007 to 2011, under her direction. Kloidt led the team to Liberty League regular season titles in 2007, 2008, 2010 and 2011, and five consecutive league championship crowns from 2007 to 2011.

Kloidt was voted the Division III coach of the year by the Intercollegiate Women's Lacrosse Coaches Association (IWLCA) in 2008 and earned New York Region coach of the year honors in 2007 and 2009.

Twelve of Kloidt's players have earned a total of 17 All-America honors, including Lauren Sokol '12 last year. Her program excels academically as seven players made the 2012 NESCAC Spring All-Academic team. The program was also recognized by the IWLCA with 2012 Academic Squad honors by earning a team grade-point average of at least 3.0.

Prior to Hamilton, Kloidt was Le Moyne College's head coach at the Division I level. She led the team to their first-ever conference title and earned their first NCAA championship berth in 2002. Kloidt began her coaching career as an assistant on the Amherst College lacrosse and soccer staffs.

Kloidt graduated with a degree in exercise and sport science from Penn State University in 1995. She was a four-year varsity letter winner in lacrosse and received Division I all-region honors in 1994. Kloidt went on to earn her master's in exercise and sport studies from Smith College in 1998.