Women's lacrosse cruises to win over Ithaca
---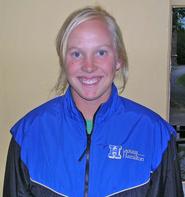 Audrey Nebergall '10 led nationally ranked No. 3 Hamilton College with four goals in a 15-3 win over Ithaca College in a non-league game at Hamilton's Steuben Field on April 14.
Hamilton (11-0 overall) extended its program record with 11 straight wins to start the season, and has won 31 straight games at home. The Continentals ended Ithaca's five-game win streak. Hamilton has allowed just 19 goals in its last five games.
Nebergall leads the Continentals with 25 goals this season. Four different players scored two goals each. Liz Rave '10 scored two goals and assisted on another. Anne Graveley '11 scored twice, picked up four ground balls and caused one turnover. Ashley Allen '12 and Hilary Saverin '10 scored two goals apiece.
Sarah Bray '11 tallied two assists, a team-high six ground balls and one draw control. Bray leads Hamilton with 27 assists and 42 points this season. Lauren Sokol '12 collected four ground balls and two draw controls. Libby Schultz '12 caused two turnovers.

Kate Fowler '10 played the opening 40:24 in goal for Hamilton and stopped four shots. Sam Elie '12 came in to play the final 19:36 and stopped both shots she faced.
Hamilton took control right away as the Continentals scored the first five goals. Nebergall opened the scoring with back-to-back goals in the first 90 seconds. She added one more goal in the run.

Ithaca (6-4) scored its first goal 11:05 into the first half. The Continentals responded with three straight goals to make the score 8-1. Nebergall and Graveley capitalized on free-position shots, and Rave scored her first goal of the game. With 8:47 left in the opening half, Ithaca made the score 8-2.
Hamilton continued to dominate with three more goals. Bray sent a pass ahead to Rachel Friedman '13, who found the back of the net with 3:14 remaining. Allen took advantage of a free-position opportunity with 1:28 left and, 13 seconds later, Schultz scored an unassisted goal. With 22 seconds left in the first, the Bombers tallied an unassisted goal to make the score 12-3 going into the break.
The Continentals held the Bombers scoreless in the second half. Saverin opened the half with a free-position shot that sailed past the Bombers' goalie just two minutes in. It was not until 22:10 later that Allen scored the next goal -- her second of the game. Hannah Hoar '13 tallied the final goal with 3:27 remaining.
Hamilton enjoyed a 39-16 advantage in shots and a 23-13 lead in ground balls. Ithaca committed 22 turnovers and was successful on just 12 of 23 clear attempts. The Continentals scored on 5 of 12 free-position shots and the Bombers were 0-for-6.
The Continentals travel to play a Liberty League game against William Smith College on Saturday, April 17.