Women's lacrosse cruises to win over Kenyon in NCAA championships
---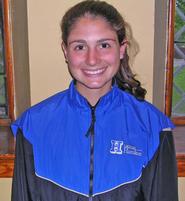 Nationally ranked No. 1 Hamilton College led 13-0 at the half and cruised to a 15-3 win against Kenyon College in a 2010 NCAA Division III championship regional semifinal at Hamilton's Steuben Field on May 15.
Hamilton (19-0 overall) advances to the regional final for the fourth straight year. The Continentals will play Colby College on Sunday at 1 p.m. at Steuben Field. Colby defeated SUNY Cortland, 10-9, in the second regional semifinal at Hamilton.
The Continentals extended their home win streak to 37 games. Hamilton -- owners of the top scoring defense in NCAA Division III -- allowed three goals for the third straight game.
Twelve Hamilton players scored at least one goal. Kriti Dave '11 led the offense with two goals and one assist. Liz Rave '10 and Rachel Friedman '13 chipped in two goals apiece. Hilary Saverin '10 added one goal, two assists and three draw controls. Anne Graveley '11 and Kate Otley '12 each scored one goal and had one assist.
Kate Fowler '10 and Sam Elie '12 combined to make four saves for the Continentals. Fowler stopped three shots in the opening 43:58, and Elie made one save in the final 16:02.

Sarah Bray '11 led the tough defense with four ground balls and two caused turnovers. Lauren Sokol '12 won three draw controls and forced two turnovers. Paige Engeldrum '13 and Meg Pengue '12 each picked up three ground balls. Hannah Hoar '13 recorded one goal, three ground balls, two draw controls and two caused turnovers.
Kenyon was making its first appearance in the NCAA women's lacrosse championships. The Ladies finished their season with a 15-3 record. Kenyon -- from the North Coast Athletic Conference -- defeated conference rival College of Wooster 19-14 in a first round game on May 12.
Friedman gave Hamilton a 1-0 lead 2 minutes, 11 seconds into the first half. Saverin added the second goal 48 seconds later and the Continentals were rolling. Back-to-back goals by Rave and another goal by Friedman off an assist from Saverin gave Hamilton a 5-0 lead with 23:10 left in the first half. Rave leads the Continentals with 40 goals.
Graveley scored her 35th goal and then earned an assist as Libby Schultz '12 found the back of the net at the 19:09 mark. A goal by Mariah Monks '13 put the Continentals up 8-0 near the midway point of the first half. Otley earned the assist, and then scored a goal with 12:39 left. Hoar scored her 13th goal 23 seconds later.

Audrey Nebergall '10 and Ashley Allen '12 each scored one goal before Caroline Morgan '13 capped the first half onslaught with her fifth goal with 23 seconds remaining. Kenyon committed 17 turnovers in the first 30 minutes.
Dave scored Hamilton's two goals in the second half to stretch the lead to 15-0 with 13:28 remaining. Kenyon scored its first goal with 12:10 left in the second. The Ladies found the back of the net with 5:45 remaining, and scored once more for the final margin with 2:14 left.
The Continentals held a commanding advantage in shots (32-9), ground balls (26-15) and draw controls (13-6). The Ladies were successful on just 8 of 21 clear attempts, while Hamilton was successful on 12 of 13.