Women's lacrosse cruises to win over SUNY Oneonta in season opener
---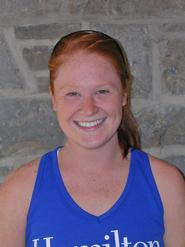 Rachel Friedman '13 scored four goals in her first game at Hamilton College, and helped lead the nationally ranked No. 4 Continentals to a 21-12 win over host SUNY Oneonta in a non-league game on March 14.
Liz Rave '10 and Hilary Saverin '10 scored three goals apiece. Sarah Bray '11, Kate Otley '12, Anne Graveley '11 and Audrey Nebergall '11. Bray and Kriti Dave '11 tallied two assists each. Bray added three ground balls and two caused turnovers. Rave chipped in three ground balls and three draw controls. Otley won a team-high five draw controls.
Kate Fowler '10 finished with nine saves and a team-high four ground balls for Hamilton in its season opener. SUNY Oneonta (4-1 overall) was dealt its first loss of the season.
Hamilton started the scoring just 48 seconds into the first half when Friedman found the back of the net. Oneonta then ran off three unanswered goals during a five minute stretch to take a 3-1 lead.

The Continentals came right back with four straight goals, including a goal and an assist by Rave, to give Hamilton the lead back at 5-3. Three of the goals came within 45 seconds of each other during the 11th minute. Oneonta scored four of the next five goals to regain the lead at 7-6 with 9:59 left in the half.

Hamilton seized control with 11 unanswered goals for a commanding 17-7 lead with just over 20 minutes to go in the second half. Three of the goals came during a stretch when Oneonta was a player down because of a yellow card that was awarded at the beginning of the second half. Graveley, Friedman and Rave all scored two goals in the run, and Bray added two goals and one assist. Otley had one goal and one assist.
Oneonta scored five more goals in the final 17:32, but the Continentals were not finished scoring either, as they added four more goals before the end of regulation. Amy Marchesi '13 and Mariah Monks '13 scored one goal apiece late in their first collegiate action. Hamilton enjoyed a 44-24 advantage in shots, and a 19-14 edge in draw controls.
The Continentals travel to San Antonio, Texas, for a non-league game against Bowdoin College on Wednesday, March 17.