Women's lacrosse loses clash of top 15 teams
---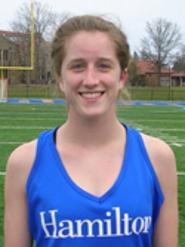 Middlebury College's Liza Herzog '14 posted three goals, two assists and six draw controls, and the nationally ranked No. 3 Panthers downed No. 15 Hamilton College 11-6 in a NESCAC game at Hamilton's Steuben Field on April 3.

The Panthers (8-0 overall, 5-0 NESCAC) have won two straight games against Hamilton after they dropped the first three meetings in the series.

Margaret Souther '13 notched a game-high four goals, Ellen Halle '13 chipped in two and Emma Kramer '13 added one for Middlebury. Halle leads the NESCAC with 28 goals and 45 points. Michaela Colbert '13 passed out two assists.

Hannah Deoul '13 led the Panthers with four ground balls, and Chrissy Ritter '16 and Heather Marrison '13 caused three turnovers apiece. Alyssa Palomba '14 stopped five shots in goal.

Katie D'Antonio '14 and Rachel Friedman '13 tallied three points apiece for the Continentals. D'Antonio scored two goals, including her team-leading 21st, and had one assist. Friedman recorded one goal and two assists, and now has 50 career helpers.

Hannah Hoar '13 scored two free-position goals and caused three turnovers for Hamilton. Caroline McCarthy '16 finished with one goal. Hannah Haskell '15 collected four ground balls and Margaret Gabriel '16 won two draw controls. Kari Koga '15 made five saves. Dewi Caswell '14 missed her second straight game due to injury. Caswell is ranked 10th in Division III with a .547 save percentage and 26th with a 7.80 goals against average.

Hamilton (4-5, 2-4) grabbed a 1-0 lead 6 minutes, 53 seconds into the first half when D'Antonio received a pass from Friedman and sent a shot by Palomba. The Panthers responded with the next four goals and took the lead for good. Herzog tied the score on a free-position goal with 17:47 left in the half, and Halle made it 2-1 with 13:02 remaining. Souther scored the next two goals for a 4-1 advantage. The first score was unassisted with 8:09 to go and the second came after a feed from Colbert with 3:35 on the clock.

The Continentals cut their deficit in half 82 seconds later on a goal by McCarthy after she received a pass from Friedman. But Souther 's third goal of the half with 30.5 seconds remaining gave Middlebury a 5-2 lead at the break.

Herzog played a part in the Panthers' first two goals after the break as Middlebury pushed its lead to 7-2 just 82 seconds into the second half. Colbert set up a goal by Herzog 28 seconds in, and Herzog assisted on Halle's second goal with 28:38 left.

Friedman made it 7-3 after she took a pass from D'Antonio and fired a shot past Palomba with 24:34 left. But two more quick goals by Middlebury gave the Panthers their largest lead at 9-3. Souther scored a man-up, free-position goal with 21:40 to go, and Middlebury was the beneficiary of an own goal as Hamilton tried to clear 48 seconds later. Alice Grant '14 attempted to pass the ball back to Koga in goal, but she lost it in the sun and the ball trickled into the cage.

Hoar sandwiched a pair of free-position goals around a goal by Kramer and Middlebury held on to a 10-5 lead with 8:56 remaining. Gabriel won the ensuing draw control and the Continentals nearly took advantage of the possession. Friedman had a shot hit the post and another banged off the crossbar, and the Panthers came away with the ground ball. Herzog capitalized on a free-position shot and extended the lead back to six at 11-5 with 6:47 left. D'Antonio rounded out the scoring 80 seconds later.

Middlebury outshot Hamilton 21-15, and held a 13-6 advantage in draw controls. The teams combined for 41 turnovers in temperatures that stayed in the mid-30s with 20-plus mph winds.

The Continentals host Bates College for another NESCAC game on Saturday, April 6. Middlebury returns home to face off against nationally ranked No. 10 Amherst College in NESCAC action on Saturday.