Women's lacrosse defeats Nazareth
---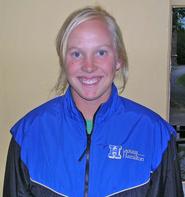 Audrey Nebergall '10 scored five goals to lead nationally ranked No. 4 Hamilton College to a 16-9 win over host Nazareth College in a non-league game on March 26.
Anne Graveley '11 added three goals and one assist for Hamilton (5-0 overall). Liz Rave '10 and Hilary Saverin '10 scored two goals apiece. Kriti Dave '11 scored one goal and tallied two assists.
Kate Otley '12 contributed one goal and one assist. Sarah Bray '11 won a team-high four draw controls, picked up three ground balls and had two assists. Kate Fowler '10 made seven saves and played all 60 minutes in goal.
Rave started the scoring two minutes into the first half with her 11th goal of the year. Rachel Friedman '13 made the score 2-0 with her ninth goal. Nazareth (3-3) scored its first goal at the 24:27 mark on a free-position shot. Saverin scored her first goal of the game 15 seconds later to make the score 3-1.
Nazareth scored two goals to tie the score at 3-3 with 17:43 left in the half. Nebergall followed with her first goal of the game to put Hamilton back in front. The Golden Flyers scored the next three goals to take their largest lead of the afternoon at 6-4. The Continentals answered with three goals of their own to regain the lead.

With 3:33 left in the first half, the Golden Flyers found the back of the net to tie the score at 7-7. Hamilton scored twice in the final 2:09 of the half to take a 9-7 lead into the break. Dave's goal -- on an assist from Graveley -- put the Continentals ahead for good.
Nazareth scored just 39 seconds into the second half to cut its deficit to one. Nebergall scored back-to-back unassisted goals 52 seconds apart to increase Hamilton's lead to 11-8. With 20:23 remaining, the Golden Eagles scored to cut their deficit to 11-9, but that proved to be Nazareth's last goal. Hamilton pulled away with a 5-0 run to end the second half. Graveley scored twice in the run.
Hamilton enjoyed a 47-19 edge in shots and a 21-5 advantage in ground balls. The Continentals play another non-league game at St. John Fisher College on Saturday, March 27.