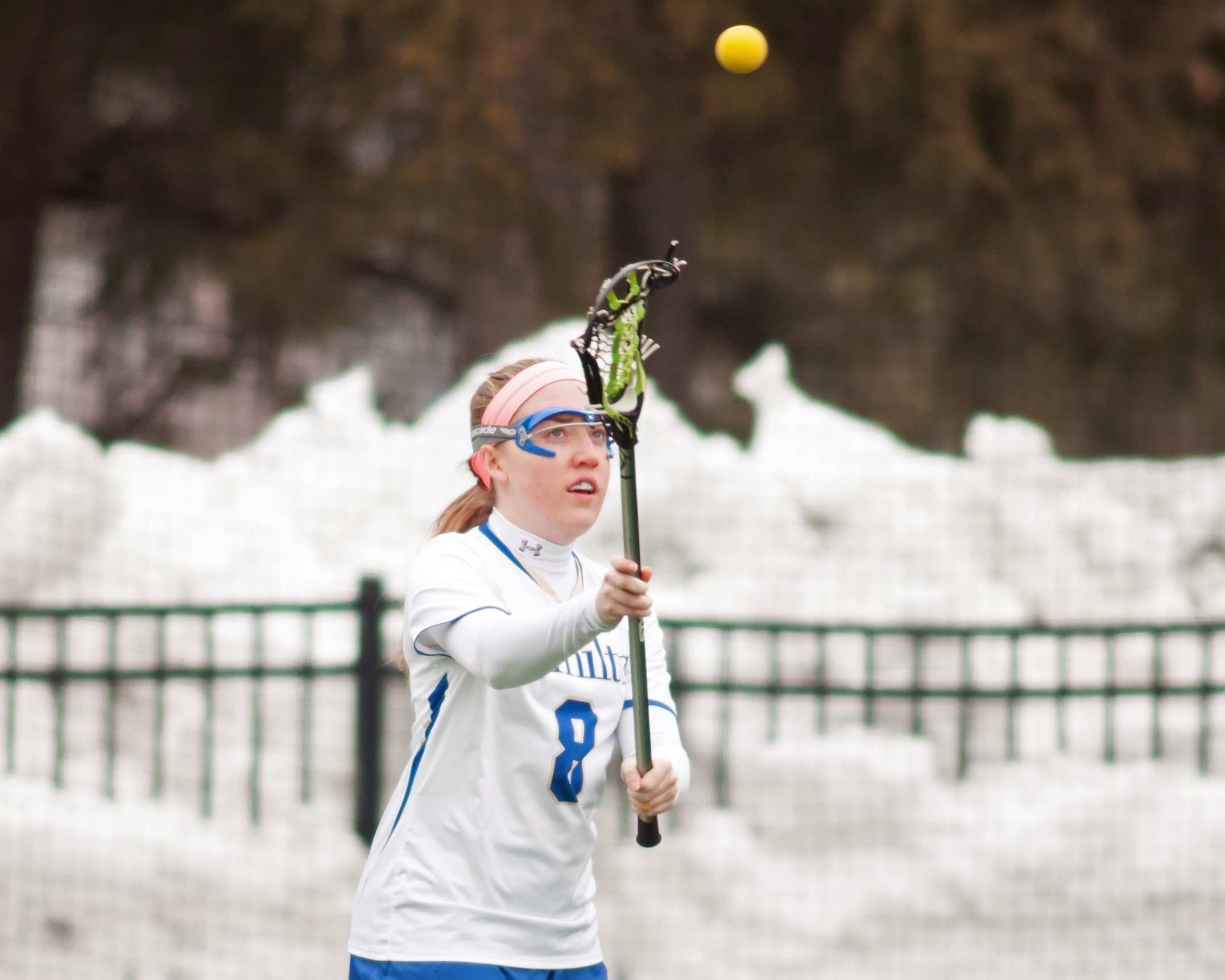 Hamilton College allowed just one goal in the second half and the nationally ranked No. 9 Continentals posted a 9-7 NESCAC win against the No. 10 Tufts University Jumbos at Hamilton's Steuben Field on a cool and windy Saturday afternoon.

Box Score

The Continentals (10-2, 6-2 NESCAC) entered the day ranked 23rd in Division III in scoring defense at 7.45 goals allowed per game. Hamilton improved to 4-2 against ranked teams this year.

Tufts (9-3, 5-3) had their winning streak snapped at four games but the Jumbos still lead the all-time series against the Continentals, 6-4.

Caroline McCarthy '16, Margaret Gabriel '16 and Darby Philbrick '18 led the Hamilton offense with two goals each. Taylor Ryan '17, Morgan Fletcher '17 and Nora Klemmer '17 all chipped in one goal. Fletcher leads the team with 24 goals. Emily Randall '16 was credited with her second assist this year.

Hannah Rubin '17 made six saves for the Continentals. Fletcher scooped up a career-high three ground balls and Ryan also picked up three. Gabriel won four draw controls as Hamilton finished with a 10-8 edge in that category.

Caroline Ross '16, who leads Tufts with 38 goals, added a game-high three more. Brigid Bowser '16 scored twice and Jenn Duffy '18 notched her fourth. The Jumbos' other goal was scored on a play midway through the first half when Rubin made a save but Kali DiGate '15 checked her stick, the ball popped out of the pocket and landed in the goal.

Hannah Wiltshire '18 stopped 11 shots but lost for the first time in net (5-1). Emily Wright '15 caused five turnovers and collected three ground balls, and Bowser added three ground balls.

The first half ended in a 6-6 tie but the Continentals scored the first three goals after the break. Fletcher put Hamilton in the lead for good with 20:36 left and Klemmer made it 8-6 with her 11th goal 93 seconds later. Philbrick gave the Continentals a three-goal cushion with 12:07 remaining.

Tufts thought it had taken a 7-6 lead early in the second half on a goal by Ross but her score was wiped out when the officials determined she used an illegal stick. Ross did pull the Jumbos within 9-7 with 5:58 to go. Tufts' Lindsey Walker '15 won the ensuing draw but the Jumbos threw the ball out of bounds with 5:16 left and Hamilton ran out the final five minutes.

After the Jumbos tied the score at 3-3 on the own goal with 17:20 remaining in the first half, the Continentals scored three straight goals in less than two minutes and grabbed a 6-3 advantage with 4:16 to go. McCarthy started the run on her 16th goal with 6:11 left and Ryan and Gabriel scored on free-position shots.

Tufts responded with three goals in the last 1:45 of the half. Bowser cut the Jumbos' deficit to two goals and Ross made it 6-5 with 24.4 seconds remaining. Duffy won the draw and tied the score with 14.1 seconds to go.

Hamilton owned a 25-20 shot advantage, including 11-5 in the second half, and a 17-15 edge in ground balls. Tufts was successful on just 11 of 18 clear attempts.

The Continentals host No. 2 Middlebury College for another NESCAC game on Wednesday, April 15. The Jumbos travel to No. 5 SUNY Cortland for a non-conference contest on Sunday, April 12.