Women's lacrosse downs Rochester
---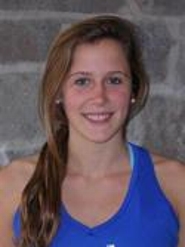 Rachel Friedman '13 led nationally ranked No. 1 Hamilton College with four goals and one assist in an 18-1 rout of the University of Rochester in a Liberty League game at Rochester's Edwin Fauver Stadium on April 24.
The Continentals (14-0 overall, 6-0 Liberty) remained the only undefeated team in NCAA Division III women's lacrosse. Rochester (2-11, 1-5) lost its fifth straight. Friedman won three draw controls, and Liz Rave '10 and Audrey Nebergall '10 scored three goals apiece.

Sarah Bray '11 scored one goal, tallied two assists, picked up a game-high five ground balls and caused a game-high five turnovers. Bray leads the Continentals with 33 assists and 53 points. She is also the team leader with 46 ground balls and 25 caused turnovers.
Anne Graveley '11 scored twice, and Libby Schultz '12 had one goal and two assists. Mariah Monks '13, Kriti Dave '11 and Hannah Hoar '13 each contributed one goal and one assist. Lauren Sokol '12 caused four turnovers. Kate Fowler '10 played all 60 minutes in goal and made two saves.
The Continentals scored the first five goals in the opening 7 minutes, 3 seconds, and never looked back. Nebergall and Rave both tallied two goals in the run. At the 21:00 mark in the first half, Rochester scored its lone goal to make the score 5-1. Hamilton added five more goals before the break for a 10-1 lead. Five different Continentals scored to close out the half.
Bray scored 1:10 into the second half off an assist from Friedman. The Continentals scored all eight goals in the second half for the 18-1 final. Friedman scored back-to-back goals with the first at 11:14 and a free-position goal at 9:10. Amy Marchesi '13 scored her third goal of the season with 1:12 left to wrap up the scoring. Hamilton's defense limited the Yellowjackets to just one shot in the second half.
Hamilton dominated with 29 shots, while Rochester took just five. The Continentals also enjoyed a 19-14 advantage in ground balls. The Yellowjackets were successful on just eight of their 18 clear attempts. Hamilton caused 22 of Rochester's 30 turnovers.
The Continentals host Skidmore College for another league game on Friday, April 30.