No. 19 women's lacrosse moves on to NESCAC semis with upset at Colby
---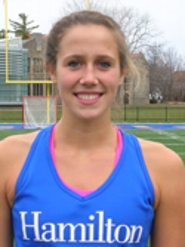 Rachel Friedman '13 scored three goals to lead nationally ranked No. 19 Hamilton College to a 9-4 upset over No. 6 Colby College in a 2012 NESCAC Championship quarterfinal at Colby's Bill Alfond Field on April 28.

Hamilton (7-9 overall) was the championship's No. 7 seed, while Colby was the No. 2 seed. The Continentals advance to take on top-seeded Trinity College in a semifinal at Trinity's Sheppard Field on Saturday, May 5, at noon. The winner plays in the title game at Trinity on Sunday, May 6.

Hamilton stopped Colby's win streak at five games, and the Continentals also snapped the Mules' 15-game home win streak. Colby had appeared in each of the last five NESCAC championship games.

Katie D'Antonio '14 posted two goals and one assist, and Madison Beres '15 added two goals. Libby Schultz '12 tallied one goal and one assist, and Emily Brodsky '14 scored the other goal.

Meg Pengue '12 forced a game-high four turnovers, and Josie Jones '12 and Lauren Sokol '12 each won three draw controls. Paige Engeldrum '13 scooped up a game-high four ground balls. Dewi Caswell '14 started in goal and made three saves in the first half. Kari Koga '15 replaced Caswell at halftime and made six saves in the second half.

Sarah Lux scored twice to lead the Mules' offense. Lindsey McKenna and Katie Griffin scored the other two goals, and Claire Donegan was credited with two assists. Donegan and Kirsten Karis each collected three ground balls. Michelle Burt stopped nine shots in net.

Beres opened the scoring with an unassisted goal 2 minutes, 35 seconds into the game. Colby responded with the next two goals to take a 2-1 lead. McKenna found the back of the net off an assist from Donegan with 26:08 remaining in the half, and Lux scored with 17:33 on the clock.

The Continentals scored three straight goals to take a 4-2 lead heading into halftime. Friedman tied the score at 2 with an unassisted goal with 16:15 left in the half, and Brodsky gave the Continentals the lead for good with a free-position goal with 10:59 remaining. D'Antonio added a free-position goal with 4:35 on the clock.

Colby (13-2) pulled within 4-3 with 26:28 to play when Donegan found Griffin for a goal. But Friedman and D'Antonio scored back-to-back unassisted goals to put Hamilton ahead 6-3 with 23:13 left.

Lux scored off an assist from Griffin to cut the Mules' deficit to 6-4 with 18:41 remaining. Schultz found Beres for a goal with 14:12 left and D'Antonio fed Schultz for a score with 11:05 left to stretch the Continentals' lead to 8-4. Friedman added an unassisted tally with 8:08 to play for the final margin.

Hamilton held a 25-22 shot advantage and a 10-5 edge in draw controls. The Continentals are making their first appearance in this event. Hamilton's lacrosse teams competed in the Liberty League from 1996 to 2011.