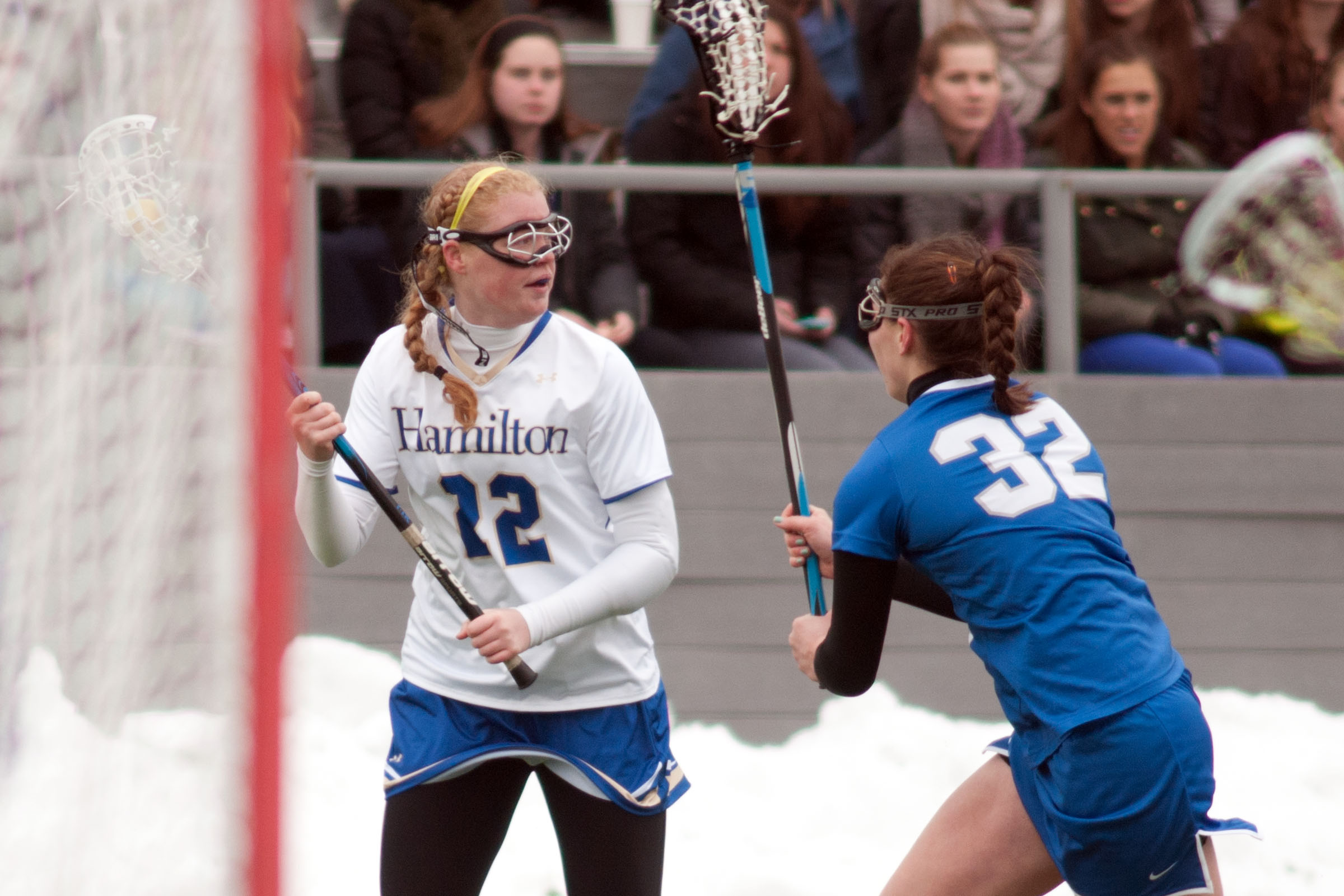 Seven Trinity College players scored goals and the nationally ranked No. 6 Bantams defeated the Hamilton College Continentals 11-5 in a NESCAC game at Hamilton's Steuben Field on April 19.

Box Score

Trinity (11-2, 8-1 NESCAC) won its seventh straight game and third in a row away from home. The Bantams are in sole possession of second place in the conference standings with one game left to play. Trinity hosts undefeated Amherst College in the regular season finale on Wednesday, April 23. The No. 1 seed for the 2014 NESCAC championship will be up for grabs.

The Continentals (5-8, 2-8) will miss the postseason for the first time since 1998. Hamilton hosts Ithaca College for a non-conference game that will close out the season on Tuesday, April 22, at 5 p.m.

Renee Olsen '15 led the Bantams' offense with two goals and an assist. Shea Kusiak '14, Caroline Hayes '15 and Molly Cox '15 scored two goals each. Martha Griffin '16 and Kathleen Timmons '14 chipped in one goal and two assists apiece, and Karly Simpson '17 added one goal and one helper.

Ashley Stewart '16 scooped up six ground balls and Lindsay Mullaney '15 had four for Trinity. Hayes won five draw controls, Midge Daniel '14 caused four turnovers and Emily Mooney '16 made six saves.

Emily Brodsky '14 paced the Continentals' offense with three goals. Katie D'Antonio '14 had a goal and an assist, Margaret Gabriel '16 was credited with two assists and Nora Klemmer '17 scored her fourth goal. Gabriel leads the team with 14 assists and is tied with D'Antonio for the team lead with 32 points.

Gabriel recorded four draw controls, three ground balls and two caused turnovers. Alice Grant '14 and Casey File '17 picked up three ground balls apiece and both Lauren Brady '14 and Morgan Fletcher '17 caused two turnovers. Kari Koga '15 and Hannah Rubin '17 made two saves apiece as both goalies played one half.

The Bantams were clinging to a slim 4-3 lead after Brodsky scored on a feed from D'Antonio with 12:13 left in the first half. Trinity ran off the next five goals and took control early in the second half.

Simpson started the run on her second goal this year with 9:45 remaining in the half. Olsen made it 6-3 with 7:41 to go and Griffin tallied her team-leading 26th goal 52 seconds later on a free-position shot. Kusiak's 10th goal gave the Bantams an 8-3 advantage with 3:38 left and Trinity led by five at the break. Hayes increased the Bantams' cushion to six goals with 26:57 remaining in the second half.

Hamilton's Brodsky and D'Antonio scored goals and cut the Continentals' deficit to 9-5 with 19:23 to go. Trinity quickly restored its six-goal lead after Timmons found Kusiak and then Timmons scored unassisted for her 11th goal. Neither team found the back of the net in the final 15 minutes. The Bantams won their fifth straight game against Hamilton and lead the all-time series, 8-1.