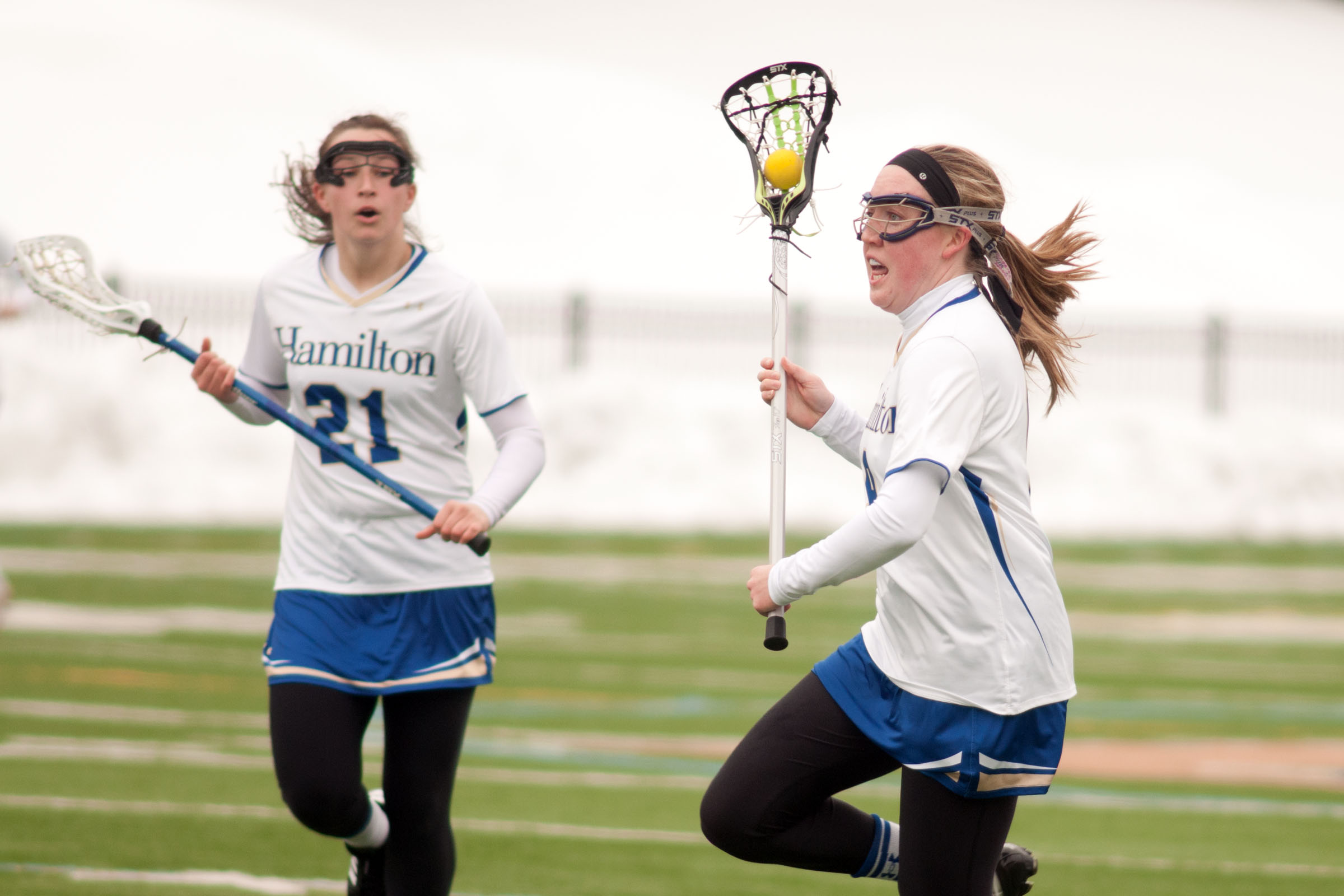 Tufts University's Caroline Ross posted three goals and an assist and the nationally ranked No. 18 Jumbos hung on for a 9-8 NESCAC win against the Hamilton College Continentals at Tufts' Bello Field on April 5.

Box Score

Ross' free-position goal gave the Jumbos the lead for good at 7-6 with 24:38 left in the second half. Hamilton dropped its third straight game -- all on the road against ranked opponents.

Brigid Bowser chipped in two goals, two assists and seven draw controls for Tufts. Kali Digate notched two goals, Gabby Horner added one goal and one assist and Lindsey Walker scored a goal. Emily Wright recorded four draw controls, three ground balls and three caused turnovers, and Rachel Gallimore made two saves. The Jumbos owned a 13-6 advantage in draw controls.

Margaret Gabriel '16 paced the Continentals (4-6, 1-6 NESCAC) with two goals and an assist. Taylor Ryan '17, Kathryn Maiorano '14, Katie D'Antonio '14, Lauren Brady '14, Morgan Fletcher '17 and Casey File '17 tallied one goal each. D'Antonio's goal is the 102nd of her Hamilton career.

Annie Pooley '16 scooped up a game-high five ground balls and Brady caused two turnovers for the Continentals. Kari Koga '15 and Hannah Rubin '17 combined to make five stops in goal.

After Ross' goal made it 7-6, Horner scored an unassisted goal with 23:21 remaining, and Bowser added another unassisted tally for a 9-6 cushion with 17:50 to go.

Hamilton nearly rallied for the tie. Maiorano scored on a feed from Gabriel with 7:12 left and File pulled the Continentals within 9-8 on a free-position goal with 3:18 remaining. Hamilton scored five of its eight goals on free-position shots. The Continentals' last chance to tie the score came on a free-position shot by Ashleigh Stephan '15 that hit the post just seconds before the end of the game.

Tufts (6-4, 3-3) jumped out to a 3-0 lead with 17:21 left in the first half on goals by Digate, Bowser and Ross. Hamilton cut its deficit to 4-3 on a free-position goal by Ryan with 6:35 remaining. The Jumbos restored their three-goal lead on scores by Walker and Digate with 5:51 and 4:56 to go, respectively.

Fletcher made it 6-4 on her unassisted goal with 1:22 left and D'Antonio put one in the back of the net with 10 seconds remaining. The Continentals trailed 6-5 at the break. Gabriel's second goal of the day and 14th this season forged the afternoon's lone tie 2:59 into the second half.

Hamilton hosts No. 12 Williams College for a NESCAC game on Tuesday, April 8, at 5 p.m.