Women's lacrosse edges SUNY Cortland
---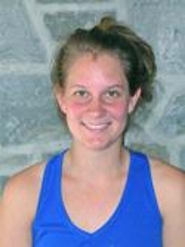 Rachel Friedman '13 scored her second goal of the game with one minute, 48 seconds remaining in regulation and nationally ranked No. 4 Hamilton College held on for an 8-7 win versus No. 9 Cortland at the SUNY Cortland Stadium Complex on March 23.
The Red Dragons fell to 2-1 with the setback, while the Continentals remained unbeaten at 4-0. Sarah Bray '11 led Hamilton with two goals, two assists, three draw controls and three caused turnovers.

Liz Rave '10, Hilary Saverin '10, Anne Graveley '11 and Hannah Hoar '13 netted one goal each. Friedman contributed an assist and won three draw controls to go with her two goals. Meg Pengue '12 tied a game high with four ground balls. Kate Fowler '10 registered nine saves in goal for the Continentals.

The largest lead in the game was a 2-0 advantage for Hamilton on goals by Friedman and Bray at 25:15 and 24:40. Cortland knotted the score at 2-2 with 16:38 remaining in the opening half. The teams then traded the next four goals and the game was tied at 4-4 at the half.

Cortland grabbed its only lead 1:47 into the second half. The Continentals responded with three straight goals -- one each from Graveley, Bray and Hoar -- and Hamilton led 7-5 with 6:20 remaining. Just over a minute later, Cortland pulled within one goal on an unassisted tally, and then evened the score with 3:21 left.
Friedman scored the game winner on an individual effort with less than two minutes remaining. The Continentals won the ensuing draw control but turned the ball over with one minute left. Cortland successfully cleared the ball and had a chance at the tying goal with 20 seconds left, but a shot from the right side went just wide. Hamilton was awarded possession and ran out the clock.

Hamilton held a 12-5 advantage in draw controls. The Red Dragons ended up with a 23-18 edge in shots.
The Continentals will return to action on Friday, March 26, when they travel to Nazareth College.