Women's lacrosse loses NESCAC clash between top 15 teams
---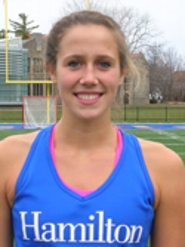 Casey Egan scored on a free-position shot with 45 seconds remaining in the second half to lift nationally ranked No. 14 Tufts University to an 8-7 come-from-behind win over No. 7 Hamilton College in a NESCAC game at Tufts' Bello Field on March 10.

The game was the 2012 opener for both teams. Hamilton played lacrosse in the Liberty League from 1996 to 2011, and this was the Continentals' first NESCAC contest.

Gabby Horner led the Jumbos with three goals. Kelly Hyland, Lara Kozin, Emily Pillemer, Eliza Halmo and Egan added one goal apiece. Kerry Eaton, Hyland and Kozin were each credited with an assist, and Kelly Cohen and Egen each caused three turnovers. Tess Shapanka made seven saves in goal.

Rachel Friedman '13 led the Continentals with two goals and two assists. Katie D'Antonio '14 and Emily Brodsky '14 chipped in two goals apiece, and Hannah Hoar '13 added one. Paige Engeldrum '13 caused three turnovers, and Meg Pengue '12 won five draw controls. Dewi Caswell '14 made six saves in goal.

Hamilton (0-1 overall, 0-1 NESCAC) led the majority of the game and was up 6-3 after Hoar's goal with 16:55 remaining in the second half. Hamilton controlled the ensuing draw, but could not capitalize, and the tide began to turn.

Tufts (1-0, 1-0) scored five of the final six goals. Hyland started the comeback with an unassisted tally at 10:28. The Jumbos tied the score at 6-6 on free-position goals by Halmo with 8:00 remaining, and Pillemer with 7:08 left. Hyland then assisted Kozin at 3:33 for the first Tufts lead at 7-6.

Hamilton took the draw control and Friedman netted a free-position goal that tied the score with 2:33 remaining. The Continentals won the draw again, but threw the ball out of bounds during their possession. Tufts cleared it, Egan earned a free-position shot and buried it for the game-winner. Hamilton again won the draw, but lost possession and the ball was scooped up by Shapanka, who ran out the clock.

Friedman had a goal and two assists, and Brodsky scored twice as Hamilton built a 4-2 halftime lead. Horner had both Jumbo goals in the first half. Horner's third goal pulled Tufts to within 4-3 early in the second half. Hamilton scored the next two before the Jumbos finished strong.

Each team was credited with 18 shots. Hamilton held a 13-4 advantage in draw controls, and was 2-for-4 on free position shots. Tufts went 3-for-7.

Hamilton travels to Wesleyan University for a NESCAC game on Sunday, March 11, at 1 p.m.