Women's lacrosse falls to Colby in clash of ranked NESCAC teams
---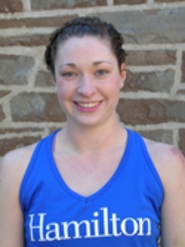 Lindsey McKenna scored three goals to lead nationally ranked No. 6 Colby College to an 11-9 NESCAC win against No. 13 Hamilton College in Clermont, Fla., on March 20.

Kate Pistel added two goals and Katharine Eddy chipped in one goal and three assists for the winners. Lane McVey, Alex Mintz and Claire Donegan recorded one goal and one assist each. Lucy Gerrity and Sarah Lux scored one goal apiece. Claire Dickson and Michelle Burt combined to make seven saves.

Madison Beres '15 paced Hamilton (2-3 overall, 1-2 NESCAC) with three goals and one assist. Kathryn Maiorano '14 tallied three goals and Ellen Esterhay '14 contributed one goal and one assist. Katie D'Antonio '14 and Rachel Friedman '13 scored one goal apiece. Dewi Caswell '14 made four saves.

Colby (5-0, 2-0) led 6-3 at the half, but the Continentals stormed back to tie the score at 9-9. Donegan put the Mules on top for good with 9:05 left, and Pistel added an insurance goal with 7:12 remaining.

Hamilton takes on No. 9 Bowdoin College for another NESCAC game in Florida on Thursday, March 22.