Women's lacrosse headed back to Virginia
---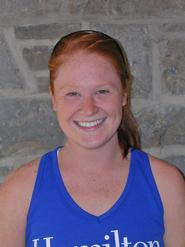 Defending NCAA Division III champion Hamilton College advanced to the national semifinals for the second straight year with a 13-9 win against Middlebury College in an NCAA tournament regional final at Colby College's Bill Alfond Field in Waterville, Maine, on May 10.
Nationally ranked No. 5 Hamilton (16-2 overall) won its fifth straight game overall and has recorded six consecutive victories in the NCAA tournament. The Continentals play Franklin & Marshall College in a national semifinal at Roanoke College in Salem, Va., on Saturday, May 16, at 8 p.m.
Franklin & Marshall defeated Tufts University 12-7 at home in the Diplomats' own regional on Sunday. The Continentals defeated Franklin & Marshall 13-6 in the 2008 national championship.
Hamilton was making its third straight appearance in the NCAA regional finals. The Continentals last faced Middlebury in a 2008 NCAA regional final at Hamilton, where the Continentals also prevailed, 9-7.
The Continentals jumped out to an 8-4 halftime lead and owned an 11-4 advantage at one point early in the second half. Liz Rave '10 led Hamilton with a career-high five goals and was credited with one assist. Rave scored one goal on a free-position shot, and she mainly used her speed to run by defenders on the other four.
Kaillie Briscoe '09 added three more goals and an assist. Kate Fowler '10 was strong in goal as she made a career-high 14 saves in the face of a Middlebury squad that owned a 29-20 advantage in shots.
Libby Schultz '12 opened the scoring 3:10 into the first half for a 1-0 Hamilton lead. Ninth-ranked Middlebury (11-6) scored the next two goals to gain its only advantage of the game. Briscoe set up Audrey Nebergall '10 with 15:01 left in the half to knot the score at 2-2, and Hamilton scored the next five goals to open up a 7-2 lead.
Briscoe notched a goal in between two unassisted tallies by Rave to start the second half and the Continentals led 11-4 with 22:04 left. Middlebury closed to within four goals at 12-8 with 10:32 remaining.
Rave made sure there would be no comeback with an insurance goal with 5:06 remaining. She started on the left side of the goal, came strong across the middle past a defender and ripped a shot into the back of the net for a 13-8 advantage.
Kate Marek '09 won a team-high four draw controls and Anne Graveley '11 picked up a team-high four ground balls. Hamilton held a 23-16 lead in ground balls and a 14-10 advantage in draw controls. Continentals' head coach Patty Kloidt is 7-1 in NCAA tournament games at Hamilton.