Women's lacrosse picks up win over Rensselaer
---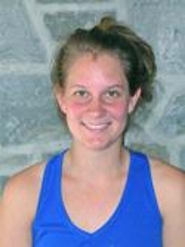 Sarah Bray '11 scored two goals, tallied a career-high six assists and picked up five ground balls to lead nationally ranked No. 3 Hamilton College to a 17-7 win over Rensselaer in the Liberty League opener for both teams at Rensselaer's Renwyck Field on April 2.
Hamilton's seven straight wins to start the season sets a new program record. Bray's six assists are the most for any Hamilton player since Kaillie Briscoe '09 recorded seven assists against Vassar College on May 4, 2007.

Hilary Saverin '10 scored a team-high three goals. Hamilton (7-0 overall, 1-0 Liberty) had a total of seven players score two goals each. Anne Graveley '11 scored two goals and had one assist for the Continentals. Ashley Allen '12, Kate Otley '12, Libby Schultz '12, Rachel Friedman '13 and Liz Rave '10 each scored two. Rave also won a team-high three draw controls.
Kate Fowler '10 played 50:29 in goal and made four saves. Fowler also tallied a game-high six ground balls. Sam Elie '12 played the final 9:31 and stopped one shot. Lauren Sokol '12 caused three turnovers.
The Continentals started off the game with three straight goals. Rensselaer (3-3) got on the scoreboard 6:05 into the first half. Graveley scored her first goal of the game 1:31 later to make the score 4-1. RPI cut its deficit to two, and then each team traded goals to give Hamilton a 5-3 lead. Hamilton ended the first half with two goals -- one by Bray and one by Saverin with one second left -- for a 7-3 lead at the break.
Rensselaer scored 52 seconds into the second half. Hamilton answered with two goals for a 9-4 lead. The Engineers scored with 24:19 left, but the Continentals took control with four straight goals for a 13-5 lead. Bray tallied the first goal, and also earned an assist on a goal by Graveley during the run.

Rensselaer made the score 13-6 with a goal at the 18:10 mark, before Friedman scored her second goal to stretch Hamilton's lead back to eight. With 12:51 left, the Engineers scored their last goal, and the Continentals added three more in the final 9:07. Otley scored two of the last three goals.
Hamilton enjoyed a 31-14 advantage in shots, and also led with 35 ground balls while Rensselaer picked up 18.
The Continentals return to action on Saturday, April 3, when they travel to Vassar College for another league game.