Women's lacrosse player honored by league
---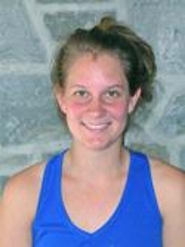 Hamilton College's Sarah Bray '11 (Rockville, Md./Connelly School of the Holy Child) was selected the Liberty League women's lacrosse offensive performer of the week and an Eastern College Athletic Conference Division III Upstate co-offensive player of the week on April 5.
Bray posted two goals, 11 assists and nine ground balls in a 2-0 week on the road for nationally ranked No. 3 Hamilton. She was credited with a career-high six assists in a 17-7 win at Rensselaer on April 2.
Bray leads the league with 2.50 assists per game and is fifth with 4.12 points per game. She also ranks fifth with 1.50 caused turnovers per game.
Hamilton (8-0 overall, 2-0 Liberty) plays its home opener against league foe St. Lawrence University on Friday, April 9. The Continentals host Clarkson University for another league contest on Saturday. Hamilton has started the season with eight straight wins for the first time in program history.