Women's lacrosse player on Tewaaraton Award watch list
---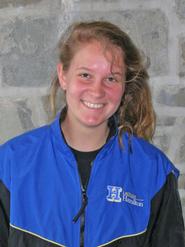 Hamilton College's Sarah Bray '11 (Rockville, Md./Connelly School of the Holy Child) is one of two players from Division III women's lacrosse programs on the 2011 Tewaaraton Award watch list for the NCAA female lacrosse player of the year.

Bray is the top returner for nationally ranked No. 2 Hamilton, which advanced to the Division III championship game in 2010, and finished the year with an overall record of 21-1. She led the team with 76 points, 70 ground balls and 40 caused turnovers, and set a program record with 47 assists. The Continentals open this season in Kissimmee, Fla., against No. 5 Gettysburg College on Wednesday, March 16.

The watch list is made up of the top lacrosse players across all three divisions of collegiate lacrosse. All watch list nominees are carefully screened and identified by one selection committee for the male athletes and another committee for the female athletes comprised of college coaches. The watch list will be whittled down three more times until the top 10 male and female Tewaaraton Award finalists are named in May.

The Tewaaraton Award was formally established in 2000 by The University Club of Washington, D.C., and is the pre-eminent lacrosse award. The award is given annually to the NCAA male and female lacrosse players of the year.

The 11th annual Tewaaraton Award will be presented on June 2 at the historical Warner Theatre in Washington. Event details and ticket information can be found at www.TewaaratonAward.org.