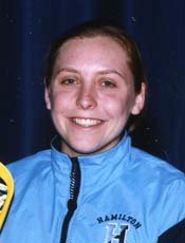 Hamilton College scored eight goals in the second half against the University of Rochester and went on to a 16-9 win in a Liberty League game at Campus Road Athletic Field on April 15.
The nationally ranked Continentals (4-1 league, 8-3 overall) moved within one-half game of Skidmore College and Union College, which are tied for first in the league standings. Eleventh-ranked Hamilton can tie those teams for the top spot with a victory against William Smith College at home on Saturday, April 16, at 2 p.m.
Inga Stots '07 and Suzy Belmont '07 paced the Continentals on offense with three goals and one assist apiece. Stots leads Hamilton with 32 goals and 39 points. Belmont has a team-high nine assists. Nicole Barrett '08 added two goals, one assist and three draw controls. Five other Continentals scored one goal in a well-balanced attack. Hilary Gamble '07 and Kalley Greer '07 combined to make 10 saves. Amanda Hollis '05 caused three turnovers and won three draw controls. Meaghan Carrigan '07 led Hamilton with five ground balls and scored a goal.
Christina Montano '07 and Rachel Hawley '05 led the Yellowjackets (1-5, 4-9) with three goals apiece. Hawley, who scored all her goals on free position shots, picked up eight ground balls and caused two turnovers. Heidi Davies '07 chipped in two goals and Laura Giusto '07 had a goal and an assist. Cassie Glanton '06 stopped nine shots, including seven in the second half, and collected four ground balls. Lisa Aronoff '06 won five draw controls. Rochester scored five of its nine goals on free position shots.
Liz Longley '07 got the Continentals off to a fast start by scoring three goals in the game's first 1:24. The Yellowjackets roared back with four straight scores to take a 4-3 lead with 18:44 left in the half. Hamilton countered with five straight goals for an 8-4 advantage. Rochester closed out the half with goals by Davies and Montano to trail 8-6 at the break.
The Continentals pulled out to an 11-6 lead thanks to two goals from Stots and another by Jen McGowan '08 early in the second half. The Yellowjackets clawed to within 11-8 on goals by Montano and Giusto with 18:46 remaining, but Hamilton clinched the win by notching the next four goals. Belmont had two of the four goals during the run, including the one that made the score 15-8 with just 4:06 to go.