Women's lacrosse wins 12th straight
---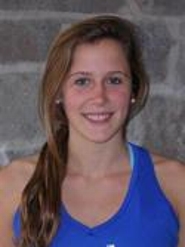 Kate Otley '12 and Rachel Friedman '13 scored three goals apiece to lead nationally ranked No. 3 Hamilton College to an 18-7 win over William Smith College in a Liberty League game at William Smith's McCooey Field on April 18.
The Continentals (12-0 overall, 5-0 Liberty) are the last remaining undefeated women's lacrosse team in NCAA Division III. The Herons (6-5, 2-3) were coming off an upset win against No. 8 SUNY Cortland on April 14.
Anne Graveley '11, Mariah Monks '13 and Hannah Hoar '13 each scored two goals. Sarah Bray '11 recorded one goal, two assists and four ground balls. Liz Rave '10 tallied one goal, one assist and three ground balls. Audrey Nebergall '10 scored her 100th career goal. Nebergall is the 13th Hamilton women's lacrosse player to score 100 goals. Rave also reached the milestone earlier this year.
Meg Pengue '12 picked up a team-high five ground balls. Lauren Sokol '12 won a team-high four draw controls. Kate Fowler '10 played all 60 minutes in goal and recorded five saves.
The Continentals jumped out to a 3-0 lead in the opening 6:02. Otley found the back of the net twice during the run. Nebergall also capitalized on a free-position shot. William Smith made the score 3-1 at the 23:11 mark, but Hamilton responded with another 3-0 spurt. This time Graveley scored twice as Hamilton took a 6-1 lead. With 16:19 left in the first half, the Herons made it 6-2.
The Continentals ended the first half with a 6-2 run to take a 12-4 lead into the break. Libby Schultz '12 and Ashley Allen '12 scored during the run, and Monks tallied both of her goals before halftime.
Bray scored 55 seconds into the second half and the Herons responded 18 seconds later to make the score 13-5. Hamilton continued to dominate, tallying the next four goals as Friedman scored twice during the run. With 14:26 remaining, William Smith scored to make it 17-6. Hoar added a goal with 12:05 left, and the Herons scored once more with 4:18 remaining for the final margin.
Hamilton enjoyed a 29-12 advantage in shots. The Continentals also led 26-19 in ground balls. The Herons were successful on just 11 of their 21 clear attempts. Hamilton also won 17 draw controls, while William Smith won nine.
The Continentals host Utica College for a non-league game on Tuesday, April 20.