Women's lacrosse wins 15th straight
---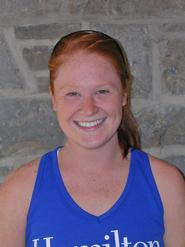 Liz Rave '10 led nationally ranked, No. 1 Hamilton College with three goals in a 14-8 win over Skidmore College in a Liberty League game played at Steuben Field on April 30.
Hamilton (15-0 overall, 7-0 Liberty) hosts No. 11 Union College on Saturday, May 1, in a showdown for the top seed and the right to host the league tournament on Friday and Saturday, May 7 and 8. Union (10-5, 7-0) defeated William Smith College 13-7 at William Smith on Friday.
The Continentals extended their home win streak to 33 games and remained the only undefeated team in NCAA Division III women's lacrosse. Skidmore (7-9, 3-4) lost for the fourth time in its last five games.
Rave is tied for the team lead with 32 goals and is in sixth place on the program's career list with 126. Emily Helm '92 is in fifth place with 128. Sarah Bray '11 chipped in two goals and two assists. Bray leads the team with 35 helpers. Bray also picked up three ground balls and caused two turnovers.
Audrey Nebergall '10 added two goals and one assist. Anne Graveley '11 contributed two goals. Libby Schultz '12 and Hannah Hoar '13 each scored one goal and had one assist. Hilary Saverin '10 was credited with two assists. Rachel Friedman '13 recorded a goal and three draw controls. Mariah Monks '13 came off the bench to score one goal and scoop up four ground balls.
Lauren Sokol '12 picked up four ground balls, caused two turnovers and won three draw controls. Kate Fowler '10 played all 60 minutes in goal for Hamilton. Fowler made four saves and recorded four ground balls. Meg Pengue '12 scored her first goal of the season and caused a team-high three turnovers.
Hamilton jumped out to a 4-0 lead and never trailed. Bray scored the first goal just 46 seconds into the first half off an assist from Saverin. Pengue's dash from her defensive zone to the offensive zone and subsequent goal made the score 4-0 with 15:04 left in the half.
Four Continentals were sent off for three minutes each with cards in a span of about three minutes, starting with 9:01 left in the half. The Thoroughbreds took advantage of Hamilton's misfortune, and scored three times in 2 minutes, 35 seconds to pull within 4-3. The first two goals came off free-position shots.
The Continentals rebounded once all their players returned and scored the last three goals of the half for a 7-3 lead at the break. Nebergall's 32nd goal on an assist from Bray 14 seconds into the second half made the score 8-3. Skidmore scored on another free-position shot to cut its deficit to 8-4 with 25:55 remaining. The Thoroughbreds scored on 5 of 9 free-position shots.
Hamilton clinched the win by tallying the next three goals. Monks, Rave and Friedman scored during the mini-run, and the Continentals held a commanding 11-4 lead with 19:58 left. Skidmore didn't score again until there was 7:43 left. Schultz scored off an assist from Saverin to make it 12-5. Skidmore found the back of the net again at 5:14.
Bray scored off an assist from Nebergall, and Rave scored 30 seconds later after a pass from Schultz to put Hamilton up, 14-6. The Thoroughbreds scored twice in the last 50 seconds for the final margin.
The Continentals outshot the Thoroughbreds, 31-17. Hamilton enjoyed a 30-19 advantage in ground balls, and the Continentals forced 17 of Skidmore's 30 turnovers.

Skidmore won 15 draw controls, while Hamilton won nine. The Continentals were successful on 17 of 18 clear attempts, while the Thoroughbreds were successful on just 10 of their 23. Hamilton leads the all-time series 27-8, and has won the last five meetings with Skidmore.