Women's lacrosse wins eighth straight with rout at Vassar
---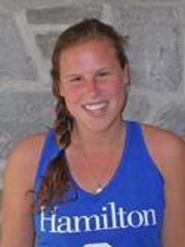 Nationally ranked No. 3 Hamilton College exploded to score 12 goals in the second half, and defeated Vassar College 16-5 in a Liberty League game at Vassar's Weinberg Field on April 3.
The Continentals (8-0 overall, 2-0 Liberty) have opened a season with eight straight wins for the first time in program history. Libby Schultz '12 led Hamilton on offense with three goals and two assists. Audrey Nebergall '11 scored three goals and Sarah Bray '11 tallied a game-high five assists and four ground balls. Bray has 11 assists in the past two games and 20 this year.
Kate Otley '12 scored two goals and assisted on another. Liz Rave '10 and Anne Graveley '11 scored two goals apiece. Kate Fowler '10 played all 60 minutes in goal and recorded eight saves. Meg Pengue '12 led the team with four caused turnovers and picked up three ground balls.
Nebergall put Hamilton on the scoreboard first 3:03 into the first half and the Continentals never trailed. Vassar (4-4, 0-2) tied the score with 18:07 left in the half. Unassisted goals by Rave and Graveley put Hamilton up 3-1. With 2:58 left in the half, Vassar cut its deficit to 3-2. Schultz scored her first goal of the game off an assist from Bray with 1:54 left to put Hamilton ahead 4-2 at the break.
Hamilton started the second half with goals by Graveley and Nebergall to go up 6-2. The Brewers scored an unassisted goal to get within three. Rave scored at the 18:05 mark after a pass from Bray to make the score 7-3. With 16:48 remaining, Vassar cut its deficit to three for the second time, but that was as close as the Brewers could get.

The Continentals took control by scoring the next eight goals for a commanding 15-4 advantage. Seven different Continentals scored and Otley tallied both her goals during the run. With 31 seconds left, Vassar scored to make it 15-5. Ashley Allen '12 found the back of the net with just three seconds remaining for the final margin.
Hamilton dominated play with 45 shots while Vassar had 16. The Continentals enjoyed a 34-19 edge in ground balls and a 17-5 advantage in draw controls.
The Continentals' home opener is against St. Lawrence University in another league game on Friday, April 9.