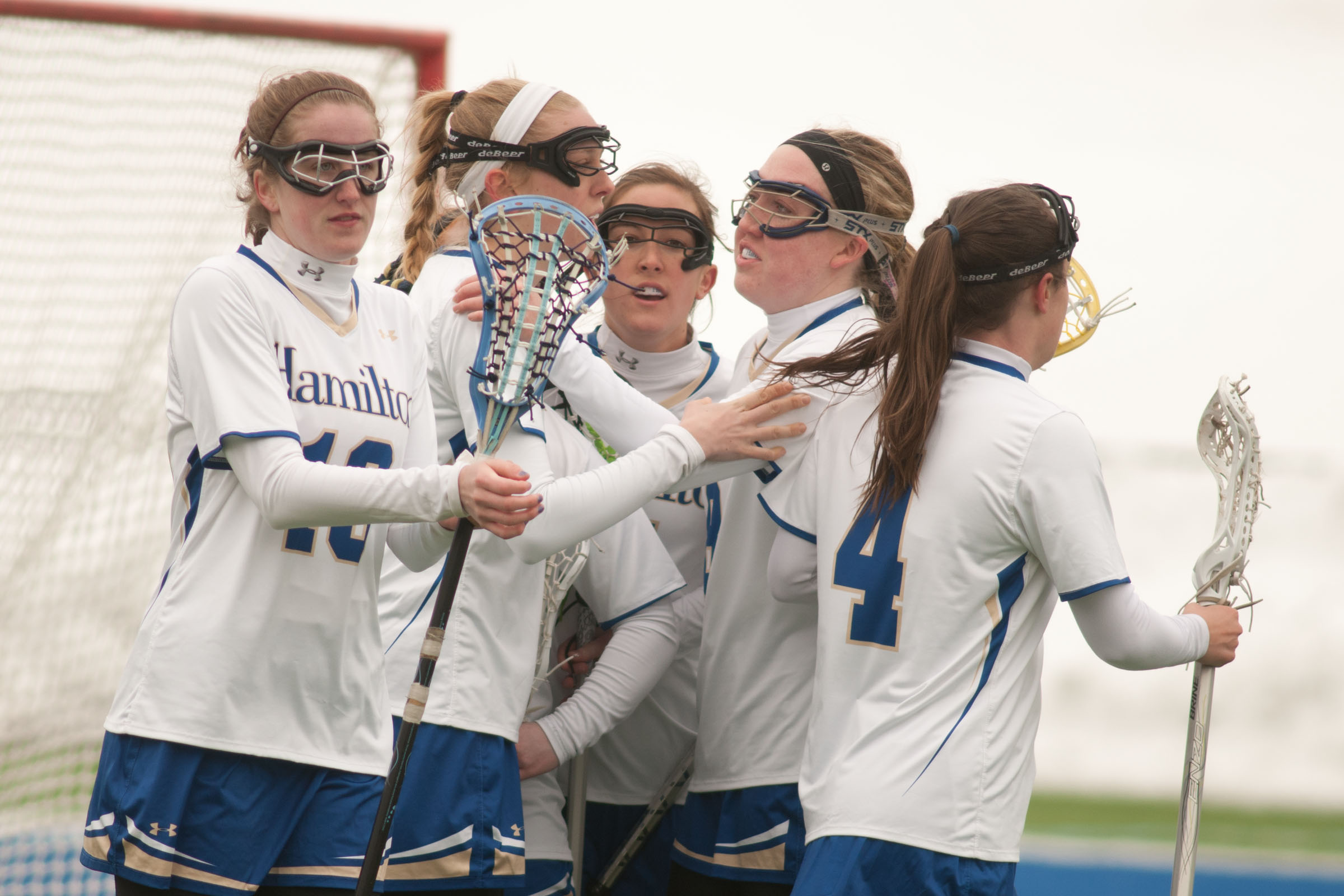 Hamilton College's Margaret Gabriel '16 posted a game-high four points and the Continentals held off the Connecticut College Camels for an 11-8 NESCAC win at Hamilton's Steuben Field on April 12.

Box Score

The Continentals (5-7, 2-7 NESCAC) ended their losing streak at four games with their sixth straight win in the all-time series against Conn. College. Hamilton is 5-0 this year against unranked opponents. The Camels have lost their last five games.

Gabriel scored three goals and assisted on another for the Continentals. Katie D'Antonio '14 chipped in two goals and an assist, and Emily Brodsky '14 and Morgan Fletcher '17 notched two goals apiece. Taylor Ryan '17 scored her ninth goal this season and Lauren Brady '14 added her fourth.

Casey File '17 won six draw controls, Alice Grant '14 scooped up two ground balls and Ellison Sherrill '17 caused two turnovers for Hamilton. Kari Koga '15 started in goal and made one save. Hannah Rubin '17 relieved Koga after the first half and stopped two shots in the final 30 minutes.

Hannah Donegan '17 paced the Conn. College offense with three goals. Cecily Cushman '15 scored twice and Taylor Thomas '15, Lowell Abbott '14 and Tina Balzotti '17 recorded one goal each. Izzy Marx '14 was credited with her sixth assist and Meag Irvine '15 picked up her first.

Maggie Hogan '16 caused four turnovers and collected four ground balls for the Camels. Haley Dumke '14 had four ground balls and Donegan and Erin Moran '16 won three draws apiece. Lauren Munhall '16 made four saves in her first start in goal.

Conn. College (4-9, 0-8) fell behind 2-0 early, but grabbed a 3-2 edge with 18:22 left in the first half after the Camels scored three straight goals. The Continentals responded by scoring the next seven goals and they never trailed again.

Gabriel tied the score at 3-3 and Brady put Hamilton in front for good with 14:49 remaining in the first. Brodsky made it 5-3 on her 16th goal with 8:59 to go and Fletcher scored on a free-position shot 35 seconds later. D'Antonio and Fletcher gave the Continentals a five-goal cushion, and Ryan made it 9-3 with 3:38 left.

A free-position goal by Donegan with 18 seconds remaining ended Hamilton's run but Conn. College was behind 9-4 at the break. The Continentals held a 14-6 shot advantage in the first half.

The Camels tried to rally in the second half. Goals by Cushman, Abbott and Donegan pulled Conn. College within 9-7 with 14:30 to go. Gabriel's 18th goal with 5:47 left put Hamilton back up by three and stopped the Camels' streak at four in a row. The goal was also the first for the Continentals in nearly 28 minutes.

Conn. College thought it had cut its deficit back to two goals with 4:40 remaining but the Camels were called for an illegal stick and the goal was disallowed. D'Antonio clinched the win and made it 11-7 with her 21st goal on a feed from Gabriel with 3:18 to go. Donegan accounted for the final margin on a free-position goal with 15 seconds left.

The Continentals honored their five seniors -- Brady, Brodsky, D'Antonio, Grant and Kathryn Maiorano '14 -- after the game.

Hamilton hosts nationally ranked Trinity College for a NESCAC game on Saturday, April 19, at noon. Conn. College returns home to take on Bates College in NESCAC action on Friday, April 18.