Women's lacrosse wins sixth straight
---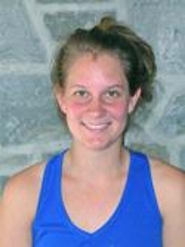 Nationally ranked No. 4 Hamilton College had three players score three goals each in a 14-10 win over St. John Fisher College in a non-league game at St. John Fisher's Growney Stadium on March 27.
Sarah Bray '11, Rachel Friedman '13 and Kate Otley '12 scored three goals each, and Bray added one assist for the Continentals (6-0 overall). Liz Rave '10 contributed two goals and one assist. Lauren Sokol '12 picked up a team-high five ground balls and recorded two caused turnovers. Kate Fowler '10 played 56:46 in goal and made six saves. Sam Elie '12 played 3:14 and recorded one save.
Bray opened the scoring for Hamilton, finding the back of the net after a pass from Rave just 29 seconds into the first half. With 25:58 left, Bray passed the ball to Friedman, who scored her first goal of the game to put Hamilton up 2-0. St. John Fisher (0-5) scored its first goal at the 21:29 mark, and then tied the score at 2-2 just 25 seconds later. Audrey Nebergall '10 scored her 13th goal of the season off a free-position shot to give Hamilton a 3-2 lead.
St. John Fisher tied the score at 3-3 with 16:59 remaining, and then took a 4-3 lead with another goal 24 seconds later. With 10:24 remaining in the first half, the Cardinals found the back of the net to put themselves up 5-3. The Continentals rallied and ended the first half with a 3-0 run to take a 6-5 lead, and never trailed again. Otley scored twice during the run.
Rave opened the second half with a goal 4:22 in to give Hamilton a two-goal lead. The Cardinals responded with a goal of their own with 23:55 left to make the score 7-6. Bray scored 15 seconds later to put Hamilton back up by two, but St. John Fisher would not go away. The Cardinals scored on a free-position shot with 21:35 left and was back within one.
The Continentals took control by scoring the next three goals, including back-to-back goals by Friedman to make the score 11-7 midway through the second half. St. John Fisher scored twice to get within two with 8:22 remaining. Otley followed with her third goal of the game to make it 12-9. With 6:07 left, the Cardinals scored to cut their deficit to two again, but Hamilton tallied two goals in the last 4:32 for the final margin.
St. John Fisher held a slight 29-28 edge in shots. Both teams recorded a total of 16 ground balls.
The Continentals return to action on Friday, April 2, when they travel to Rensselaer to play their Liberty League opener.