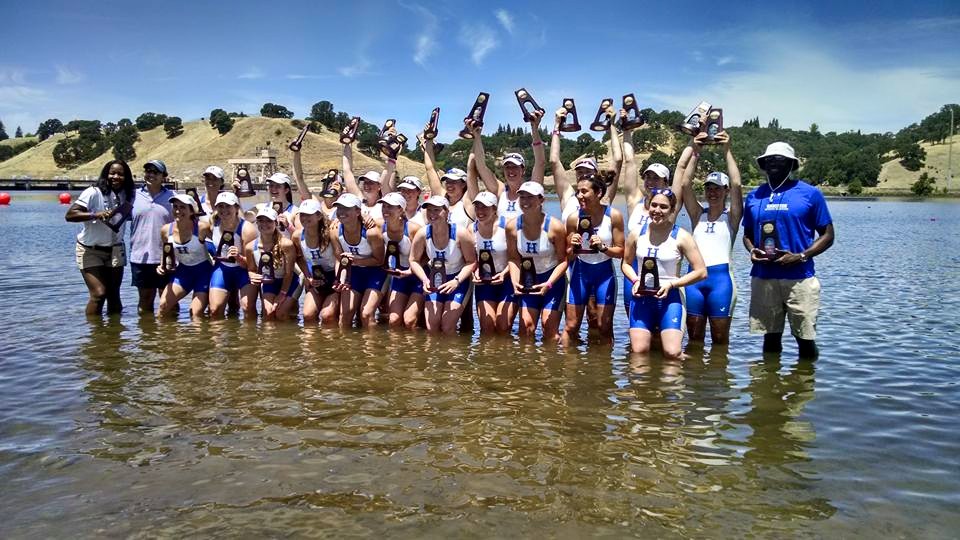 The Hamilton College women's rowing team completed competition at the NCAA Championships on Saturday with a fourth-place team finish at the two-day event. The Continentals were making the program's first appearance at the NCAA Division III Women's Rowing Championships, which was held at the Sacramento State Aquatic Center in Gold River, Calif.

Complete results

Hamilton's varsity 8 placed third and the second varsity 8 took fifth place. In the team standings, Bates College edged Trinity College for the national title with 39 points to 38 for the Bantams. Wellesley College took third place with 31 and the Continentals were next with 28. Williams College (24) and Washington College (17) rounded out the field.

Hamilton's nationally ranked No. 4 varsity 8 earned the bronze medal in the grand final, finishing the 2,000-meter race in 7:02.529. No. 3 Trinity won the gold medal in 6:54.576 and No. 1 Bates was second in 6:57.786. No. 6 Wellesley, No. 2 Williams and No. 5 Tufts University rounded out the grand final field.

The Continentals finished second in a four-boat heat on Friday morning to earn their spot in the grand final. Hamilton finished in 6:56.238, trailing only Bates (6:53.088). Wellesley and Washington followed in 7:00.846 and 7:05.303, respectively.

Hamilton's second varsity 8 took fifth place by defeating Washington in the petite final. The Continentals finished in 7:42.236 with Washington posting a time of 7:57.259.
The Continentals raced twice on Friday, finishing third in both a morning heat and the afternoon repechage. The Continentals finished their heat in 7:38.860 with second varsity 8s from Bates and Wellesley taking the top two spots. In the repechage, Hamilton posted a time of 7:32.206, trailing Wellesley (7:08.917) and Williams (7:14.832).

The varsity 8 features coxswain Heather Piekarz '16, eighth seat Erin Gerrity '15, seventh seat Keara Lynn '16, sixth seat Caroline Walton '15, fifth seat Rachel Cooley '18, fourth seat Olivia Shehan '18, third seat Karly Moore '15, second seat Emma Zanazzi '15 and bow Jessica Pedersen '15.

The second varsity 8 consists of coxswain Gabby Troya '18, eighth seat Emily Hedison '17, seventh seat Claire Callahan '18, sixth seat Rachel Landman '15, fifth seat Alexandra Brantl '18, fourth seat Samantha Benevelli '18, third seat Ally Kontra '15, second seat Charlotte Andrews '17 and bow Meredith Garner '15.