Women's soccer wins at Clarkson, clinches playoff spot
---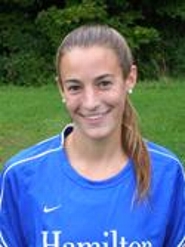 Alex Rimmer '13 scored a pair of goals five minutes apart midway through the second half to lift Hamilton College to a 3-1 victory over Clarkson University at Clarkson's Hantz Turf Field on Oct 23.

Hamilton (8-1-3 overall, 4-1-1 Liberty) clinched a spot in the four-team Liberty League tournament, which starts on Wednesday, Nov. 3. The Continentals are 4-0-2 in their last six games.

Neither team produced a shot for the first eight minutes of the contest. Hamilton scored the first goal 27:53 in when Alex Rimmer sent a pass into the middle of the field just above the penalty area to Anne Graveley '11. Graveley made a move that confused both her defender and stopped the momentum of Clarkson's goalkeeper. Graveley's shot just eluded the reach of the keeper for her fifth goal.

Hamilton tallied a pair of insurance goals midway through the second half after a flurry of shots, including two that hit the crossbar. Rimmer scored her first goal from the right corner of the penalty box at 63:50 after a pass from Emi Birch '14. Nearly five minutes later, Rimmer struck a hard shot into the top far corner of the goal at 68:29 for her eighth goal of the season.

Clarkson broke its scoreless drought with a goal at 79:58. Caitlyn Hennessey passed the ball from near the end line to Nicole Johnson for her first goal of the season.

Hamilton finished with a 19-7 edge in shots, including a 10-3 lead in shots on goal. Liza Gergenti '14 and Hailey Bobin '12 combined to make two stops for the Continentals, while Collins made seven saves. Clarkson held a 6-4 lead in corner kicks.

Hamilton will close out their league schedule at St. Lawrence University on Sunday, Oct. 24, at 1 p.m.