Women's soccer falls in league tournament semifinal
---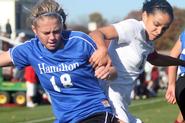 In the first Liberty League playoff appearance in Vassar College women's soccer history, the Brewers never held a lead until their golden goal in the final minute of the first sudden-victory overtime period that capped a 3-2 semifinal win over Hamilton College at Vassar's Gordon Field on Nov. 3.

The tournament's No. 2 seed Brewers (12-5-1 overall) will travel to No. 1 seed and nationally ranked No. 10 William Smith College (13-2-2) for the league final on Saturday, Nov. 6, at 1 p.m. William Smith defeated No. 4 seed Skidmore College 2-1 in the semifinals on Wednesday.

The game-winning play was started by Vassar's Tessa Verbanic, who struck the ball toward a mass of blue and white jerseys jostling for position on the edge of the box in front of the goal. Alix Zongrone emerged from the pack, went airborne, and redirected the ball past oncoming keeper Liza Gergenti '14 with 46 seconds left in the first OT for the victory.

No. 3 seed Hamilton (9-3-3) started the game strong with a goal in the fifth minute. Alex Rimmer '13 found space near the right sideline and drilled a shot to the far post from just outside the box. The Brewers evened the score in the 24th minute with a free kick taken by Rachel Shea from 25 yards out into the upper left corner.

Although the Brewers controlled possession in the first half with a 5-0 advantage in corner kicks, the Continentals took a 2-1 lead into the break thanks to an own goal by Vassar in the 42nd minute. Laura Wray '11 crossed the ball to the front of the goal, where Rimmer tried to kick it in and missed. A Vassar defender accidentally knocked the ball into their own goal while they were trying to clear it away.

The Brewers tied the score for the second time as Carolyn Demougeot rocketed a low shot in the 54th minute. Vassar led Hamilton 15-9 in shots, and held an 11-1 advantage in corner kicks.

Rimmer scored her team-leading 11th goal of the season and has 24 points.
Gergenti made three saves. Vassar keeper Ali Higgins made one save. The Continentals must wait until Monday, Nov. 8, to find out if they will receive an at-large bid to the 2010 NCAA championships.