Women's soccer advances to second round in NCAA tournament
---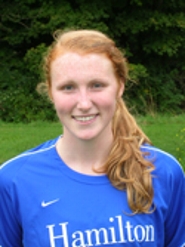 Hamilton College advanced to the second round of the 2010 NCAA Division III championship with a 1-0 victory over Virginia Wesleyan College at Johns Hopkins University's Homewood Field on Nov. 13.

Hamilton's game-winning goal was scored by Katie Lyons '11 just 1:34 into the second half. Lyons' shot from 18 yards out deflected off a Virginia Wesleyan player and into the goal. She has two goals this year and five at Hamilton.

The Continentals (10-3-3 overall) had one scoring opportunity in the first half, and Lyons was involved again. She crossed the ball with a header to Alex Rimmer '13 for Hamilton's only shot on goal in the first half at the 3:35 mark.

The Continentals had several scoring opportunities in the second half. In the 66th minute, a shot by Meg Pengue '12 from 25 yards out deflected off the post. The ball bounced down, but keeper Rachel Calkins '13 was able to collect it before the Continentals could capitalize.

In the 72nd minute, Lauren Farver '11 sent a pass to Anne Graveley '11, who rocketed the ball from 18 yards out just over the crossbar. Farver and Emi Birch '14 both fired shots directed at goal in the last five minutes.

Virginia Wesleyan (13-5-4) outshot Hamilton 4-1 in the first half, but the Continentals dominated the second, and finished with a 6-5 advantage. Liza Gergenti '14 finished with two saves while Calkins had one. Gergenti posted her fourth shutout this year, and it was the team's seventh.

Hamilton takes on nationally ranked No. 12 Johns Hopkins in the second round at Homewood Field at 6 p.m. on Sunday, Nov. 14. The Blue Jays blanked Farmingdale State College 2-0 in the other first round game earlier Saturday night.