Women's soccer edges Middlebury
---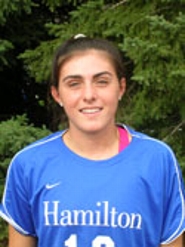 Alyssa DiCosmo '15 scored her first collegiate goal and Liza Gergenti '14 stopped all four shots she faced to lead Hamilton College to a 1-0 win against Middlebury College in a NESCAC game at Hamilton's Love Field on Oct. 8.

Gergenti has four shutouts in 2011 and eight with the Continentals. Lauren Brady '14 had an assist. Hamilton rebounded nicely from a 4-0 loss at nationally ranked No. 7 Williams College on Tuesday.

Jocelyn Remmert '13 made five saves for Middlebury, which has lost two straight games by 1-0 scores. The Panthers still lead the all-time series, 7-4-0. The teams were playing each other for the first time since 2002.

Middlebury had the best scoring chance in the first half as a shot by Rachel Madding '13 banged off the crossbar in the 34th minute. The teams went to the break locked in a scoreless tie.

DiCosmo scored the game's lone goal 5 minutes, 21 seconds into the second half. Brady took a free kick on the right side of the field from about 25 yards out, played the ball to the far post and DiCosmo hammered a one-timer into the back of the net.

The Panthers had a great chance to tie the score in the 79th minute when Amy Schlueter '13 sent a crossing pass into the goal mouth. Brady was there to clear the ball away from the goal line for the Continentals.

Hamilton (6-4-0 overall, 4-3 NESCAC) held a 13-8 shot advantage. Both teams took just one corner kick.

The Continentals travel to SUNY Oneonta for a non-conference game on Tuesday, Oct. 11. Middlebury plays a non-conference game at Skidmore College on Wednesday, Oct. 12.